The Outagamie Conservation Club located in Hortonville, Wisconsin covers roughly 64 acres of land that provides an amazing opportunity for many outdoor activities such as an archery competition. Wisconsin S3DA Staff in conjunction with the Outagamie Conservation Club hosted the 2021 Wisconsin S3DA 3D and Outdoor Target State Championship with over one hundred archers from nineteen S3DA teams competing. Wisconsin S3DA continues to grow student membership at this event as participation numbers were up roughly 20% compared to last year.
Wisconsin S3DA State Coordinator, Dan Schroeder stated, "The 2021 Wisconsin S3DA State events were a huge success. The folks at the Outagamie Conservation Club went out of their way to keep everyone hydrated in the summer heat. The parents, coaches and archers were amazing, and it was obvious they enjoyed the day and the tense competition."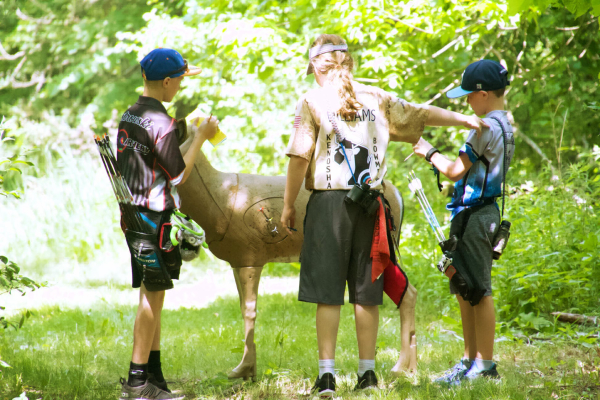 "Not only this tournament but the entire program is well-organized and well-ran by so many who are passionate about helping kids learn lifelong skills: archery, communication, good sportsmanship, leadership and so much more! The State Tournament provides the opportunity for participants across the state to come together and compete where some student members do not get to see each other all season until that day. Lifelong memories and friendships are made at this event," stated parent, Liz Knutson.
Yahara River Archers S3DA Coach, Bill Yerges stated, "Thanks for running a great State shoot! It was amazing to see the number and quality of shooters. Watching teammates and competitors support each other, sharing in the comradery of archery was a powerful testament to the character and bright future of our youth!"
While reflecting on the day, Blazin Arrows S3DA Coach, Craig Horneck said, "I thought everything went smoothly and ran really well. The shoot-offs were exciting, and I really appreciate Dan for reading the room during the Male Open Class when it was down to just Darin and Owen. I have been preaching to the kids at practice the power of a positive attitude and having a mindset that looks for the good in all situations. To sum it up, I would say the Wisconsin S3DA State Tournament was a great day filled with smiles and intense competitive focus from young archers around the state that gave off an infectious positive energy that is the kind of pandemic this world needs."