Tennessee S3DA held their annual Indoor State Championship on February 19th and 20th at the Mid Tennessee Expo Center in Murfreesboro, Tennessee. Over 200 archers from 20 S3DA teams across the state competed in this year's event. In addition to competing for the title of State Champion, 137 archers qualified to compete for the coveted Indoor Shooter of the Year. Shooter of the Year is awarded to the archer in each division who has the highest combined score from three Indoor Regionals plus their score from the State Championship.
Tennessee S3DA held eight Indoor Regionals across the state prior to the State Championship. By providing various regionals across the state, student archers and their families were able to attend events closer to their home without having to drive two plus hours from their homes. With the unknown factors and the continuation of COVID-19 restrictions, Tennessee S3DA required changes to the traditional event format. Bale assignments were limited to two per archers to allow adequate social distancing while archers were on the shooting line. Spectator numbers were also limited to maintain compliance with the state limits on the size of public gatherings. Facemasks were required by everyone in attendance and temperature checks were done upon entry.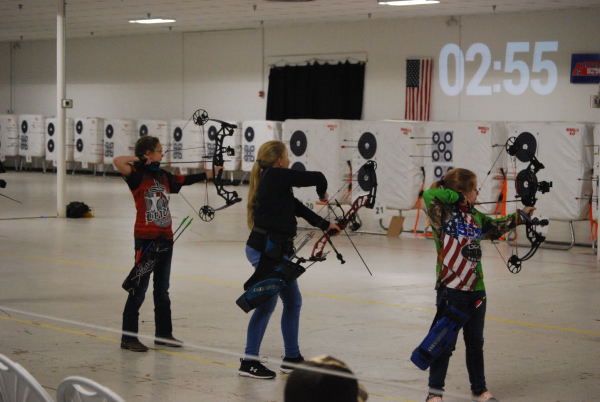 A new age division was launched this year called the "Jr. Eagle Division" and it has gained quite a bit of momentum in Tennessee. The Junior Eagle Division provides an opportunity for youth under the age of eight to compete and it has quickly become a "must watch" division.
Keith Griffin, Head Coach at Precise-Aim Archery was asked about the event and remarked, "We would like to thank everyone that was involved with our Tennessee State Championship this year. We feel that it was a great success, and everyone enjoyed it. The event was highly organized, and the awards were awesome. Our team finds it be a great honor to be a part of the Tennessee S3DA program. We look forward to another great Indoor season next year." Koye Russell is a student archer for Precise-Aim and he stated, "This year was definitely one to remember between being quarantined and all the hardships. I am extremely happy that we were able to prevail and have an Indoor season."
Tennessee S3DA State Coordinator, Robert Carter stated, "Despite the ever-changing restrictions surrounding COVID, Tennessee S3DA youth forged ahead with determination and hard work. I am inspired by their positive attitude and commitment to the sport. I would like to thank our Regional Coordinators, host clubs and the multitude of volunteers from all across the state who worked countless hours to make this season possible. The spirit of community is amazing and none of this would be possible without their help. As our season moves forward, I am eager to see our Tennessee S3DA archers compete in the upcoming S3DA "Virtual" Indoor Nationals."
Be sure to check out this link here for the amazing coverage of the 2021 Tennessee S3DA Indoor State Championship provided by D & L Archery!