On June 13th & 14th, 2020, Mountain Archery in Monteagle, Tennessee hosted the 2020 Tennessee S3DA 3-D State Championship. Archers made their way through a 20-target 3-D range which culminated with the top 5 archers in each division moving on to a five-target shoot-down. Despite state mandated social distancing guidelines and crowd size restrictions, archers and spectators from across the state converged on the mountain over the course of the two-day event.
In addition to crowning the 2020 State 3-D champions, the weekend's activities also included the presentation of the TN S3DA scholarship. The scholarship fund was established in the Fall of 2019 and awards $500 to at least one TN S3DA High School Senior who will be pursuing post-secondary education. This year's recipient was Jordan Elam of Tuckasee Archery who will be attending Lindsey Wilson College in the Fall as part of the Lindsey Wilson Blue Raiders Archery Team. Jordan is one of seventeen High School Seniors currently in the Tennessee S3DA program who will be graduating this Spring. Tennessee S3DA provided a Senior Recognition presentation during Saturday's awards presentation.
College scholarship certificates valued at approximately $30,000 per student were presented to all high school students finishing in the top 3 of their division. Among the colleges presenting scholarship certificates were Union College, University of the Cumberland's, Lindsey Wilson College, Bethel University, University of Montavello, Kentucky Christian University, Wabash Valley College, and Southern Illinois College.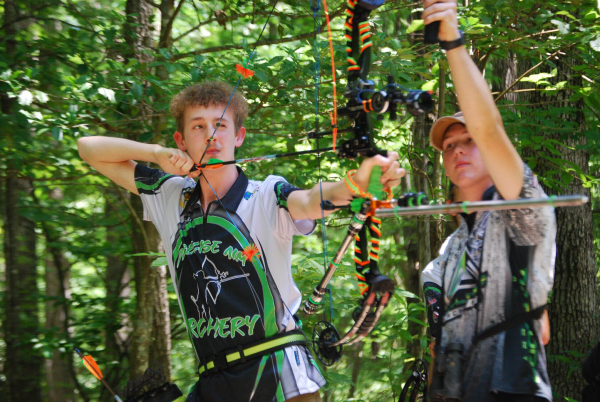 The COVID-19 pandemic halted the 2020 3-D tournament season and many of the archers had not seen each other since the TN S3DA Indoor State Championship in February. The kids could not hide the excitement and joy of being reunited. Allison McDougal, an elementary student with South Ridge Archery, said, "It was fun seeing everyone especially the ones I haven't seen since the shutdown." Rutherford County Archery Team member, Luke Duffey, said, "Thank you to all of the S3DA staff for doing a great job and for putting together a great tournament. I had so much fun shooting again with my archery friends."
When asked about his thoughts on the event, TN S3DA State Coordinator, Robert Carter stated, "Although this season was far from what we had planned and envisioned, I am grateful that we were able to hold this event. Both archers and their families were very supportive of the "social distancing" guidelines that were necessary to hold this event. In addition to the crew at Mountain Archery, I would like to recognize the incredibly dedicated team of regional coordinators and event volunteers who worked diligently to keep things running smoothly. We have some outstanding student athletes in Tennessee S3DA, and I am looking forward to seeing many of them compete in the S3DA 3-D Nationals coming up in July."
D&L Archery was nice enough to record a promo video of the event. Be sure to check that out here!