Fort Mill Bowhunters Club recently hosted the 2020 South Carolina S3DA 3-D State Championship in Fort Mill, South Carolina. South Carolina archers, parents, and coaches are familiar with Fort Mill Bowhunters Club, as they have worked directly with South Carolina State Coordinator, Sheila Tadlock to provide archers a venue for various events during this competition season. South Carolina S3DA is grateful for the opportunity to allow their archers to continue shooting with the current conditions. Fort Mill Bowhunters Club has done a wonderful job of providing guidelines to ensure everyone's safety and well-being while at their facility.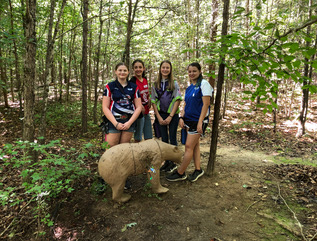 S3DA parent Melissa Green stated, "I had a great time and felt very comfortable at the state championship. I really liked the fact that I could wash my hands and there was ample space to social distance and still watch my girl compete. They did a great job spacing out the shooting lanes, which kept everyone moving along."
Tomorah Brakefield works with Lowe's Home Improvement in North York County, South Carolina and was granted permission to work this event by her Store Manager, Preston Ashe. Tomorah stated, "It's such a blessing to work for a company that allows me to choose how and where to spend my Give Back Time Volunteer Hours. The reason I decided to volunteer my time at the SC S3DA 3-D State Championship is because South Carolina is historically known to produce and cultivate some of the best archers in our nation and those youth shooters are our future. It makes me feel good to know that my encouraging words might just make a difference in the life of one of those kids!" Tomorah provided temperature checks as people arrived for the event and guidance to archers that had questions, as she shoots archery on the Archery Shooter Association's (ASA) circuit.
South Carolina S3DA State Coordinator, Sheila Tadlock stated, "Our 3-D State Championship was "TEAMWORK" at the highest level. Everyone is settling into their roles and events are running smooth. We saw smiles all-around from the range to the table where the trophies were displayed. We were excited to announce the NEW SC S3DA State Conservation Outreach Coordinator, Matthew Green and his role with SC S3DA. Matthew will provide students more information about the ATA Explore Bowhunting program and start a Get Your Hunt On Initiative."
South Carolina S3DA held a "Whitetails Unlimited – Whitetail Short Shot Challenge" for $5 per attempt. The challenge consisted of shooting 3 arrows at a whitetail deer 10 or 20 yards away and if you hit the specific mark on the target then you received a FREE keychain. S3DA archer Adam Parrish won a Walk-On Archery Ace Target and Bryan Johnson and Hannah Hall won gift cards.
For more information on the SC S3DA program, be sure to check out their Facebook page for the most up-to-date news!