At the 2020 S3DA 3-D National Championship, S3DA provided anyone on-site the opportunity to purchase as many raffle tickets as they would like for a chance to WIN a Sponsor Prize Package raffle. Items for the raffles included: G.A.S. Bowstrings High Octane String & Cable Set Gift Certificates, Bohning Shooter Stool & Multi-Fletcher, Mantis X8, Xpedition Archery DLX in Fluorescent Purple, American Whitetail – S3DA Black Series Cube Target, Kirsch 3-D Target – Billy Goat Poldi, Last Chance Archery Pocket Shop, Hat & Fletching Glue, Lancaster Archery Gift Card, Brownell & Co. B-60 Velocity Shield Backstop Netting, HHA camouflage caps and (2) HHA Sports Optimizer-Lite OL-5019 bow sights, Bear Archery Paradox RTH compound bow in Fred Bear camo, Trophy Ridge Stabilizer, Trophy Ridge Sync MD and Trophy Ridge Hex light quiver, Truball releases, Easton BowGo Black Bowcase and Flipside 3-Tube Quiver (black), Delta McKenzie IMP Target – Mini Goblin, Art's 3-D Targets – Undead Fred, PSE Archery Centrix SD in Black Cherry and camouflage caps, Collegiate Fan Gear and much, much more!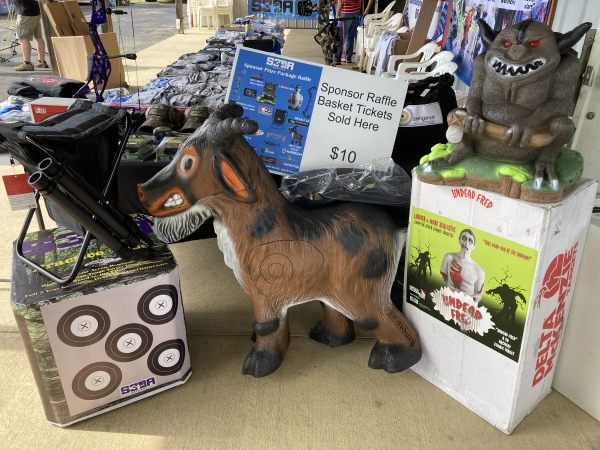 PSE Archery representative Austin Ashcraft and S3DA staff picked a winner for three (3) raffle baskets consisting of a compound bow, 3-D target, and other various items from several S3DA sponsoring organization company's product lines. With hundreds of entries for a chance to WIN, the three winners announced were: Tony Troxel, Coach for Hephzibah Straight Shooters in Georgia, Cheyanne Watkins, student member of Hawthorne Christian Academy in South Carolina and Amanda Adcock, S3DA coach in Arkansas. Scholastic 3-D Archery (S3DA) is extremely grateful for the sponsors and partners who have been instrumental in assisting with the growth of the program from the local to the national level. This program would not be where it is today without the help and support from various companies across the United States.
The mission of the Scholastic 3-D Archery (S3DA) program is, "To foster, educate and guide youth in the areas of indoor target, 3-D and outdoor target archery as well as safe, ethical bowhunting practices." The goal of the S3DA program is to provide archery and bowhunting opportunities for young people in after-school settings as well as with archery-affiliated clubs and businesses in the community. S3DA provides an effective after-school archery program, focusing on Indoor 5-spot, 3-D and Outdoor Target archery and the certification and tools to deliver the instruction to youth. As a result, S3DA expects to see increased participation in 3-D and target archery by youth and parent archers using compound bows and traditional archery equipment while also helping to increase participation at local, state, and national archery events. In addition, S3DA expects to help provide a basic understanding and respect for our natural resources, environment, and nature, with a special emphasis on the modern wildlife conservation and regulated sport hunting.