In March 2020, Scholastic 3-D Archery was set to host the 5th annual Indoor National Championship with record-shattering participation numbers when along came the coronavirus pandemic that sent shockwaves around the world. The Centers for Disease Control and Prevention (CDC) recommended no gatherings of fifty or more people and advised everyone to remain close to their home over the next eight weeks. While activities were limited to stop the spread of the virus, S3DA encouraged student members to remain active with contests, conservation activities, activity books, archery photo submissions, and videos of archers practicing. The Scholastic 3-D Archery National Staff began working on a plan to postpone the Indoor National Championship and change the format to a "virtual" event which would allow states to conduct the national tournament in a smaller "mini-regional" type format with archers competing at multiple locations across the United States.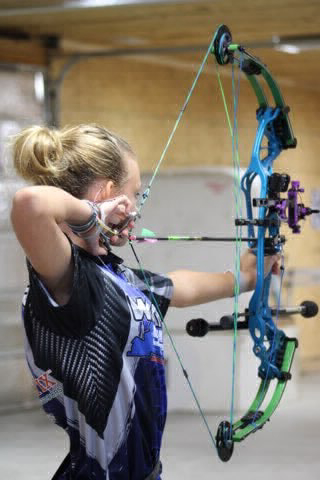 On July 23rd-26th, 2020, S3DA archers were given the opportunity to complete their required indoor round during the 3-D National Championship at the Laurel County Fairgrounds in London, Kentucky. Archers had the option to shoot the Virtual Indoor National Championship inside the Laurel County Farm Bureau Agriculture Building. With social distancing mandates still in place, S3DA provided signage, issued guidelines, and required masks for anyone within the facility except when archers were on the line. Registered archers that chose not to compete in London, KY, had the option to shoot in their home state under the discretion of the state's guidelines. While archers shot at multiple locations, the format was the same as in years past, which is (NFAA) five-spot style, including 30 arrows (6 shooting ends of 5 arrows each) and archers had the option to choose to shoot a single face target instead of a 5-spot target. Participants also received a "Goody Bag" with many items from S3DA sponsoring organizations.
Dan Schroeder, Wisconsin S3DA State Coordinator stated, "The archers, parents, and coaches enjoyed the opportunity to compete but also just enjoyed the "normalcy" in their lives again. There did not seem to be much concern from the archers, as the staff at each venue did an awesome job of planning for social distancing and provided a safe and fun environment for all involved. Speaking for myself and the majority of the archers and families involved, I really hope we can get back to face to face competition as soon as possible."
Although the event was altered, it was still a huge success with more than half the number of registered archers (1,268) from 130+ clubs and teams from 17 states participating in the competition. To view the scores from this event, please click on the link here.
Scholastic 3-D Archery would like to thank all the students, parents, coaches, and volunteers that worked tirelessly to make this event happen. S3DA is extremely grateful for the willingness to do whatever was necessary to allow the student archers of S3DA the opportunity to compete.