Scholastic 3-D Archery held the 8th annual S3DA 3-D National Championship at the Laurel County Fairgrounds in London, Kentucky on July 23rd through 26th. "We are certainly thankful that we were able to proceed with the 2020 3-D National Championship after being forced to postpone the Indoor National Championship in March and then change it to a virtual format due to the global pandemic. There were absolutely some obstacles to overcome due to the current social distancing guidelines but with the assistance of the Laurel County Health Department, London-Laurel County Tourism and teamwork from our staff and volunteers, we were able to have an exceptional event for our student members," stated Holly Helton S3DA Operations Manager. With the prolonged shutdown of most states, archers unfortunately, weren't left with many opportunities to hone their 3-D skills this year as most S3DA Regional and State Tournaments had been cancelled but the archers took that in stride and pounded arrow after arrow in the 12-Ring for some amazing scores over the long weekend of competition.
The archers and their families took part in not only the tournament but also several bonus events that were held such as the North American Big Game Bowhunting Challenge, Kirsch Target Challenge, and the Delta McKenzie Long Shot Challenge. Georgia S3DA Conservation Outreach Coordinator, Trip Penn and his wife, Kim set-up a conservation booth that allowed S3DA student members the chance to participate in a short quiz and scavenger hunt on-site to WIN conservation related prizes! Glen Mayhew with TSSA (Tree Stand Safety Awareness Foundation) was also on-site to provide archers with tips and information to keep them safe while hunting this fall. He was able to speak to many archers and their families while also giving away some amazing merchandise from TSSA sponsors.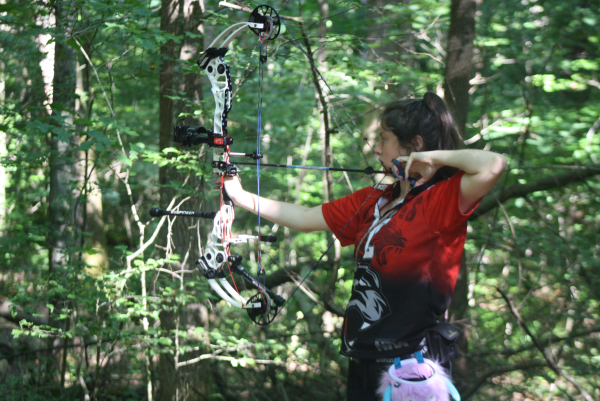 "As I was on the range taking pictures, I was truly amazed at the display of sportsmanship from all archers. When I got to the High School Female Bowhunter Compound Class, I witnessed Senior Kynsley Redmon helping one of the girls in her group that had never shot a national event before. I stopped by the stake where they were shooting and spoke with the girl's father. He said he was extremely grateful for the advice that Kynsley provided his daughter and he was thrilled that for her first national event she had been paired with someone who had a tremendous amount of experience in archery competition. Across the three days of competition, it was impressive to see experienced archers being mentors to the next generation of shooters," stated S3DA Social Media & Marketing Coordinator, Kayla Bolton.
S3DA would like to send a special thanks to the vendors, sponsors, and partners for being a part of this unique event. S3DA is also grateful for Easton Technical Products for the donation of gift certificates for a dozen Easton arrows and PSE Archery which donated PSE caps to the 3-D National Champions of each class and division. Also, a very special thanks goes out to ASA President, Mike Tyrell for blazing new trails in the endeavor to have archery tournaments in the midst of a global pandemic. Finally, a successful event such as this would not be possible without dedicated parents, coaches, and Regional/State Coordinators who volunteer their time selflessly to make sure that these student archers are focused and safe, but most of all, having fun.
Please see the scores from this event here.
Note: There are three tabs across the bottom to indicate Elementary, MS & HS.