One of the most important (but often overlooked) aspects of hunting is safety. Scholastic 3-D Archery educates members on hunter safety and best conservation practices. Scholastic 3-D Archery supports the TSSA mission to significantly reduce tree stand incidents by providing tree stand safety education to youth and adult members and promoting tree stand safety tips across our social media pages and website. TSSA partners with S3DA to provide youth members a quiz during September "Tree Stand Safety Awareness Month" each year. TSSA has an informational booth at S3DA 3D Nationals each year to provide further education to S3DA members and their families. Most recently, TSSA presented S3DA with an award at the Archery Trade Association (ATA) Trade Show in Louisville, Kentucky.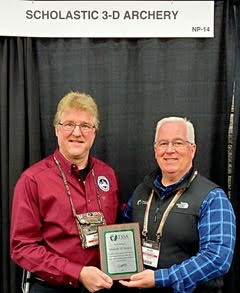 S3DA youth members are provided the opportunity to learn more about tree stand safety and the importance of following the ABCs of Tree Stand Safety regardless of the stand type they choose to use.
Always remove and inspect your equipment
Buckle on your full-body harness
Connect to the tree before your feet leave the ground
Destination share your stand location before every hunt
Tree Stand Safety Awareness Foundation representative, Glen Mayhew states, "TSSA is proud to have S3DA as a corporate partner. S3DA embraces the importance of safety. We know that many youth archers we have the opportunity to engage with either already are or will be our future hunters. S3DA serves as a direct conduit to these young individuals so that we can make sure they have the knowledge and skills necessary to hunt safely from tree stands."
Hunters and members of the industry alike can help spread the message of the TSSA Foundation. Visit the TSAA on social media at www.facebook.com/Treestandsafetyawareness and www.twitter.com/treestandsafety or their website www.Treestandsafetyawareness.org.
TSSA Foundation is a grassroots 501(c)(3) organization that serves the industry as a resource with its sole focus on significantly reducing tree stand accidents through promotion, education and best practices. For more info on the TSSA Foundation, contact Glen Mayhew, President, at TreeStandSafe@gmail.com; 540-526-5157 or Jay Everett at jay@hssvest.com; 256-773-7732.