Scholastic 3-D Archery held the 8th annual S3DA 3-D National Championship at the Laurel County Fairgrounds in London, Kentucky on July 23rd through 26th. As part of the event, S3DA had a conservation booth to make S3DA members, parents, and coaches aware that the program is actively promoting bowhunting and conservation activities to bridge the gap between target archery and hunting. S3DA members could participate in a "Conservation Quiz" with questions coming directly from the S3DA Conservation tab of the S3DA website. The quiz consisted of questions on conservation, hunting, and hunter safety knowledge and prizes were awarded to those with the most correct answers. Through the ATA Explore Bowhunting Curriculum, archers could also participate in an on-site scavenger hunt which stimulated glassing for game in the outdoors. This activity was a big hit that drew participation from parents, coaches, and national staff.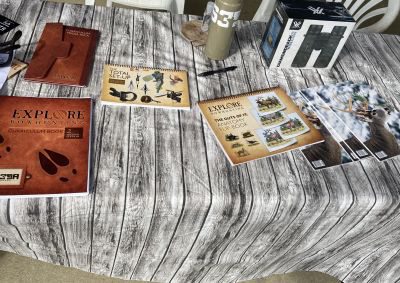 Conservation Quiz Winners:
1st place on Conservation Quiz & Rogue Bowstrings Packet Winner – Danika Stillwagon from Hephzibah Straight Shooters in Georgia
Trail Camera – Brandon Hatley from Covenant Ranch Youth Archery Club in Tennessee
"Lucky Buck" Deer Mineral – Evan McDonough from Grass Hollow Archery in Pennsylvania
Moultrie Feeder – Colin Harju from West Michigan Archery Center S3DA
Trophy Ridge Packet – Leann Drake from Western Missouri S3DA
Scavenger Hunt Winner:
Vortex binoculars – Paige Blackwell from Stones River Archery in Tennessee
"Working at the Nationals Conservation booth gave me the opportunity to share activities that we have been doing this year in Georgia S3DA to promote conservation. It was a great opportunity to get ideas and make connections with other state coordinators and vendors, so that we can work together to expand the S3DA conservation initiative," stated Trip Penn, Georgia S3DA State Conservation Coordinator.
The S3DA National Staff, along with State Conservation Coordinators are working directly with the Archery Trade Association (ATA) to encourage participants to get more involved in archery and efforts that protect and preserve the nation's natural resources. Together, they plan to implement a "Conservation Corner" as a portion of each S3DA National Event for the 2021 competition season.