Adam Brinson has been named as the S3DA Oklahoma south central Regional Coordinator. As a Regional Coordinator, Adam will oversee the development and operation of Oklahoma S3DA within the south-central region, including educating and recruiting parties interested in forming new S3DA teams, working with the State Coordinator, Steph Eastwood, and when possible, attending and assisting with National S3DA events. Adam and his wife, Crystal, have two children, Karlee, and Violet. Adam learned about the S3DA organization through the Oklahoma S3DA State Facebook page and the inquiry led him to start his own S3DA team called Discover Archery so that youth can discover themselves, the importance of conservation, and their faith in God through archery.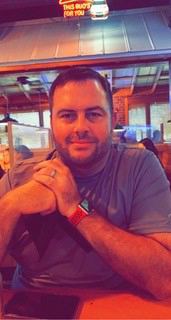 Adam was born and raised in Fairview, Oklahoma and has remained primarily in Northwest Oklahoma. In 2015, Adam and his family moved to Muskogee, Oklahoma where he served as an associate pastor at St. Paul's United Methodist Church. In 2016, he was appointed to Waurika, Oklahoma where he currently serves as a senior pastor. He began serving on a camp's board that oversees future projects and one of the projects he was involved with was bringing archery to all three of Oklahoma's camp sites. Little did he know that helping to get the archery program going there would lead him to where he is today.
Adam stated, "I knew at the very least I would be able to get my daughter going but my curiosity led to a post seeking how many would be interested should we start a program in Waurika. The response was overwhelming as we had almost thirty people reach out with the intentions of attending our upcoming organizational meet. I have had people from around the area want to join our team or more information on how to start their own S3DA team in their community. I believe that if your passionate about something and use it to teach positive lessons, you can reach youth who may not have found a connection with a sport or club through school but S3DA may be just what they have needed to help their self-esteem and worth."
Adam wants to teach youth the important lessons in life and how archery can help them cope with many things all the while competing in shoots, meeting new friends, and just having fun. His goal for the first two years as Regional Coordinator is to add five to ten new S3DA teams in the region. His plan is to continue visiting bow shops in Southern and Western Oklahoma to spread the word about S3DA. He knows that S3DA will make an impact in the community and hopes the program will lead the county to the idea of a community archery range as well as a city-sponsored recreation program where archery will be at the foundation.