Scholastic 3-D Archery recently furthered its mission to bridge the gap between beginning archery programs and target archery by completing the 9th Annual S3DA 3D National Championship. The 2021 event was held at the Laurel County Fairgrounds in London, KY and featured over 800 amazing youth archers from across the country all vying for their shot at being crowned a "National Champion" in their division and class. Youth archers from Montana to Pennsylvania convened on the fairground ranges while hoping their aim stayed true. Collegiate archery programs (University of the Cumberland's, Union College, Lindsey Wilson, Southern Illinois College, Campbellsville University and Kentucky Christian) were on hand to offer high school archers with significant scholarship opportunities during the event. These collegiate coaches also facilitated the Young Adult division shoot-downs for awarding of the final podium finishes and was much enjoyed by everyone in attendance.
Vendors, archers, and spectators filled nearly every inch of the vendor village while the Conservation Camp was held in an adjoining field and featured representatives from the Tree Stand Safety Foundation, United Trappers, Quail & Upland Game Alliance, Kentucky Department of Fish & Wildlife who held a range day for youth hunters looking to get their Hunter Safety Card and other similar organizations. Demonstrations were also held on topics such as game trapping and snare setting.
The event also featured the Delta McKenzie North American Big Game Bowhunting Challenge as well as the long shot challenge both of which are events that Delta McKenzie Targets sponsors. The North American Big Game Bowhunting Challenge features parent/child teams who both shoot various 3D big game targets like grizzly, elk, and caribou. Once both team members have completed the course, their scores are tallied and compared against other archers in the student's division and class. This brings a family aspect to the event as well as tying into the conservation aspect of the S3DA program.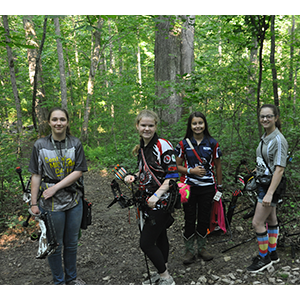 "We really couldn't have asked for better weather for this tournament. London, KY in June could bring just about anything in terms of weather, but we were blessed with sunny days and little rain. It's absolutely wonderful to see kids able to get back in touch with their archery families and just enjoy being together and slinging some arrows. Despite being very competitive, most of these archers are just glad to have a chance to get back to a sense of normalcy," said S3DA Program & Event Support Coordinator, Amanda Long.
HOYT Archery Vice President of Sales, Tom Driffill said, "On behalf of everyone at HOYT, I would like to congratulate all of the archers that came out for the S3DA event in London, Kentucky! We would also like to thank the S3DA team for all of their hard work, commitment and vision to grow the sport of archery. It's always humbling to be a part of these events and see our youth with so much passion and energy for our sport. HOYT is a proud sponsor of S3DA and we look forward to a lasting partnership that creates opportunity for this new generation of archers and beyond! Great work team S3DA!"
S3DA would like to thank the London-Laurel County Tourism, Mike Tyrell and the Archery Shooters Association, as well as all of the S3DA coordinators, coaches and volunteers who helped make this event the best one yet! You deserve a sincere and heartfelt THANK YOU!