Scholastic 3-D Archery has named Kristi Wilson as the S3DA Kentucky State Coordinator. Kristi will oversee all aspects of the S3DA program in Kentucky. Kentucky S3DA is the most robust state in the national S3DA program with over 950 student archers and more than 250 trained coaches. Kristi's biggest motivator for becoming involved with S3DA is simply because of the kids. She feels that especially for kids who are looking for a sport that is not considered "high impact" such as football, soccer, basketball, etc., this is the perfect choice. Kristi's biggest goal is to get even more people in Kentucky involved in the Scholastic 3-D Archery program.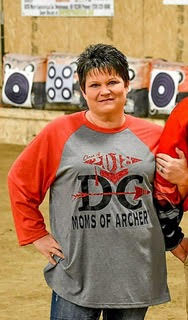 Kristi Wilson was born and raised in Philpot, Kentucky and still resides there with her husband of 22 years, Mike, as well as their two children, Lane and Harley. Lane was active in Kentucky S3DA until he graduated in 2018 and is an avid hunter of many game animals. Harley is currently a Junior in High School and although she has been sidelined for most of the 2019 and 2020 seasons due to surgeries, is still active in Kentucky S3DA. Harley has yet to harvest her first deer, but she is enjoying spending time in the stand with her dad who still hunts with her so he can be there to witness her first animal harvest.
While she was growing up, there was no real interest in Kristi's family for hunting, as most of the time was spent taking care of things around the farm. Kristi was not really introduced to hunting until she met her husband in 1996. When Kristi and Mike started a family, they introduced their kids to hunting at an incredibly young age and their passion for hunting continues to grow. Kristi said, "It is not just hunting but the whole process of conservation, herd management/health and just being able to spend quality time with family away from normal day to day stress."
Kristi was introduced to S3DA thru her son, Lane, when he was in Middle School. An S3DA club was started in their county and Kristi found out the sport was offered at their Middle School, so Lane joined. However, when Lane started High School, the program was not offered there yet. Then, Lane suffered an injury in football practice and the orthopedic surgeon told him if he returned to football and took another hit to his knee that he would never be able to climb a deer stand again. That was the turning point and Kristi began pursuing the possibility of starting an S3DA team at Daviess County High School.
Currently, Kentucky's one hundred-twenty counties are broken down into three S3DA regions. Kristi would like to see more Regional Coordinators put in place with that many counties. She said that it is very challenging for the current coordinators to cover all the ground in order to properly promote S3DA and help grow the state program to its full potential. Kristi stated, "Kentucky S3DA is one big family and we will continue to work together to keep it that way! The Kentucky S3DA program is the grassroots of the organization and it continues to grow larger each year. Without the help of the coaches, parents, and volunteers, we would not have the success in this state that we do today."