The Cushion Peak Rod and Gun Club is traditionally enjoyed by hundreds of members on a 124 beautiful acre spread of wooded and farmed land in Reinholds, Pennsylvania. This club offers many activities that include: A Rifle/Pistol Range, 3-D Archery Range, Hunter Safety Courses, ¾ acre Fishing Pond, Pavilion, and Clubhouse with a dining area. Pennsylvania S3DA is extremely grateful for the Cushion Peak Road and Gun Club allowing them to host the 4th annual 3-D State Championship. The host club did a great job of providing guidelines and restrictions to ensure everyone's safety.
"Pennsylvania has been under a stay-at-home order for quite some time, but I think perhaps the kids really took advantage of practicing during that time, as these archers shot amazingly well. It was rewarding to see them getting out on a phenomenal course and enjoying their passion for archery. Everyone was extremely excited to see each other, and the archers were more than ready to compete," stated Reading Archery Club Head Coach, Bob Lauffer.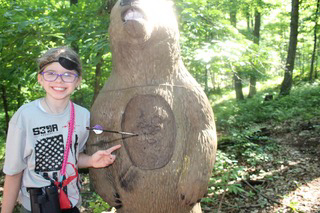 Grass Hollow Archery student archer Maggie Brensinger came in 1st place in the Female HS Barebow class. Maggie said, "The cobra and standing bear were my two favorite targets. I really enjoyed the challenging nature of the target placements. I thought the course was designed with a lot of thought and it was a lot of fun to shoot." Maggie's mother Tricia said, "My daughter has grown significantly as an archer since joining S3DA last year. Her first Nationals experience was at S3DA 3-D and Outdoor Target Nationals in 2019. Her scores continue to improve with each competition, and she continues to challenge herself to new heights."
"Another outstanding course set by Pete Slusser for S3DA archers to compete on at the Cushion Peak Rod and Gun Club. Cannon came in first place in the Middle School Open class, as he was tied going into the last target of the shootdown and he shot a twelve (12) to take the win on the longest target on the shootdown course. Grace finished in 3rd place in the Elementary Open class to make her goal of making the podium. We are so proud of our kids and we congratulate all the competitors in every class that won, placed, met their goals, and showed good sportsmanship. I cannot say enough what a great organization S3DA is," stated Scott Youndt, Photographer and Coach for Reading Archery Club.
At the end of the event, some parents were nearly in tears when reflecting on how far their children have come. One of the parents said that she had a very memorable moment when her son shot at the moose target as her son and some of the other children had a picture taken in front of that target 1-year ago and then seeing them shoot that target again just showed their physical growth as well as their skills and ability. All the parents were united in saying that S3DA has provided a consistent theme for their children in a time that is filled with so much inconsistency. They said that no matter what seems to be happening around them, such as the frustration of the new educational challenges or the inability to socialize with family and friends, they simply block out the world and hold their bow steady and know they are in control of something.