S3DA News & Tournament Results
On May 1st, 2022, a damp chill was in the air, but it didn't stop archers from competing as they met at Central Michigan Sportsman's Club for the season's first 3D regional qualifier. Even though it was breezy, chilly, and damp, the excitement shown by the archers made you forget about the weather. Michigan State Coordinator, Cara Waite stated, "The support that came out today for our archers was amazing! This is our largest tournament for a 3D competition that Michigan S3DA has ever had. Families were smiling, archers were having a blast and the weather held steady throughout the day. We look forward to our next 3D regional."
Nearly 100 archers
from across the state of Michigan gathered to compete. The woods were full! A first-time parent, Ashley Leyder said, "This was a well laid out course for the kids with lots of supportive spectators and coaches. This tournament was fun from start to finish and very well ran and organized. I truly enjoyed watching not only my child, but all the archers."
A local Superintendent, Kelly Nielson, came to support ten Central Michigan Goldstar archers from her district. When asked about her thoughts on the event, she stated, "I learned a lot attending my first archery competition. My biggest takeaway was witnessing the comradery amongst the competitors. It was great to see them supporting each other on a shot whether it was good or bad. The progression of the various age groups was fun to see, as there were some very small children on the range. The excitement of these youngsters could be heard throughout the day, but the older archers were more intense and focused. They really took aim on each target with a technical precision."
Archers across the state of Michigan are set to compete in the Michigan S3DA 3D State Championship on June 11th, 2022, at Central Michigan Sportsman Club in Stanton, Michigan. After competing in the state event, these archers will qualify for the S3DA 3D National Championship set to take place in Rend Lake, Illinois on June 16th – 19th, 2022. For more information on the Michigan S3DA program, be sure to check out the Michigan S3DA Facebook page!
Illinois S3DA held a 3D regional fundraiser which allowed archers from a couple of other states the opportunity to come together and compete in beautiful Rend Lake, Illinois at the North Marcum Archery Complex. The staff did a great job of putting together a challenging but fun 3D course, so the participants had various shooting distances and angles. Twelve Illinois S3DA teams participated over the two days of shooting, including Crowley's Ridge Archers that made the trip from Arkansas to support their neighboring state. With more than 70+ in attendance, Regional Coordinators, coaches, parents, and archers all came together to help with bow repairs, coaching techniques and general good archery fun.
Illinois S3DA has created the Illinois S3DA Scholarship which is a scholarship that can be used to further the awardee's education, whether for college, university, or trade school. The scholarship is awarded to a Female or Male that is either a Junior or Senior in High School. Many of the parents as well as past recipients (alum) that received an Illinois S3DA Scholarship came out to this event and shot with their respective teams. After competing in the Long Shot Challenge, Mid America Archers student member, Kaitlyn Robinson said, "I plan to continue with S3DA as soon as I graduate by becoming an S3DA coach."
Jim Sharp stated, "I was very excited to see the kids and their parents come out to have some quality family time. The parents were excited to shoot with their kids instead of just being a spectator. This was our kick-off fundraiser, as we will have more throughout the year. These funds from this event will help with a new set of targets and another state trailer. The equipment will be used to help NEW S3DA teams hold Indoor and Outdoor Target events in 2023."
If there are any kids that are interested in archery, love the outdoors, and like challenging themselves in a competitive sport, the Illinois S3DA program can provide you that. There are options to compete locally (within the state) and then nationally. Any Illinois S3DA representatives would be happy to help you with signing up to become a member. For more information on the program, please visit the Illinois S3DA Facebook page.
Lazy Day Archery hosted a Tennessee S3DA 3D Regional Qualifier at the Holly Fork Shooting Complex in Paris, Tennessee. Lazy Day Archery is an ASA club that has a long history of hosting events for Tennessee S3DA. Many archers from the youth level to the pro level rank the Holly Fork Shooting Complex as one of their favorite venues. With more than 230 spectators and nearly 100 archers in attendance, the staff did an amazing job of accommodating everyone. A few days prior to the event, heavy rains moved through the area and washed-out part of the walking path to the ranges. The wonderful staff at Lazy Day Archery and the Holly Fork Shooting Complex worked quickly to come up with a trailer and side-by-sides to transport people to and from the ranges.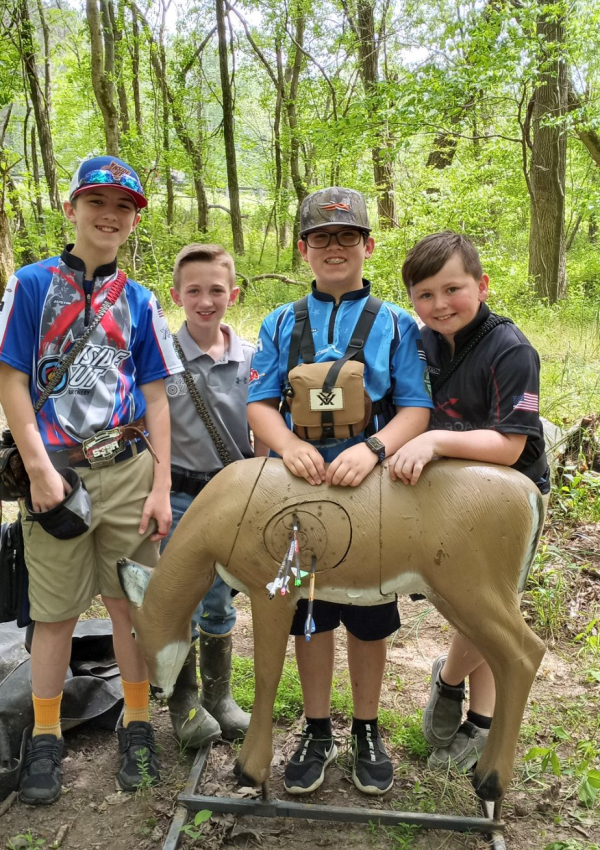 Eagle Archer, Tanner Weaks with Inside Out Tennessee S3DA Team said, "I really like being outside and getting to shoot my bow. I definitely want to shoot in more tournaments like this one." This was Tanner's first S3DA tournament and he had a blast.
Tennessee S3DA State Coordinator, Robert Carter stated, "Doc McGhee and the crew with Lazy Day Archery always go above and beyond to make archery events successful and all of us at Tennessee S3DA are grateful for their continued support. Thank you to all the archers, parents and coaches who were able to come out to the tournament. The weather was perfect, and the archers once again impressed me with not only their continued progress within the sport of archery but in the display of good sportsmanship with one another. I look forward to our upcoming 3D regional events and can't wait so see everyone out on the range."
For more information on Tennessee S3DA, be sure to check out the Facebook page here!