S3DA News & Tournament Results
The Archery Trade Association (ATA) represents manufacturers, retailers, and partners to the archery and bowhunting industry. While 2020 has been a record setting year and no one could comprehend that we would experience a world-wide pandemic, ATA has
encouraged all local, state and federal authorities to protect archery and bowhunting businesses, preserving their rights to remain open, while following appropriate guidelines. The ATA recognizes that the S3DA program has become essential to the creation of a new generation of hunters and outdoorsmen. With this in mind, even at this unprecedented time, ATA has committed to continuous support of the S3DA program. This partnership helps provide S3DA with grants for staffing, member access to educational materials on the ATA Explore Bowhunting and Explore Bowfishing programs, additional guidance and support from ATA staff, as well as funding for the S3DA-Sport:80 membership and event platform.
As memberships continue to grow, S3DA has encouraged clubs and teams to become more involved in conservation-related activities. S3DA members are not only competing in archery sanctioned events, but a recent survey showed that over 90% (poll based on 780 student members with a database of 3,500+) of members are interested in hunting and conservation. S3DA is working closely with ATA to implement conservation practices at the local, regional, state, and national level. Recently, ATA provided S3DA with kits that consisted of the following materials: Total Set-up Equipment Booklet, Explore Bowhunting Curriculum Book, Media Pack and Anatomy Flipbook. The Explore Bowhunting Curriculum Book includes several lesson plans and activities that teach how to recognize animal sign, build ground blinds, judge distances, make animal calls, and much, much more! The goal is to teach students how to feel comfortable in the outdoors.
"Our partnership with ATA is vitally important, as it allows S3DA to connect all facets of archery and brings everyone within the industry together to focus on one common goal: passing on the tradition of archery and fair-chase to the next-generation to assure the sport for future generations to come. As S3DA members are graduating from the program, many are continuing archery at the collegiate level while others are becoming instructors and starting their own S3DA clubs and teams. It is amazing to see a new generation of archery enthusiasts and bowhunters all sharing the common goal," stated S3DA National Outreach Coordinator, Chris McDonald.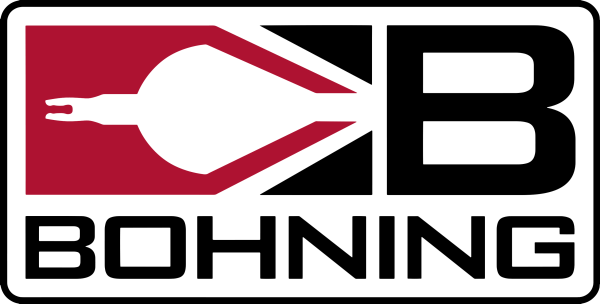 The Bohning Company has been located in Lake City, Michigan since its founding 75 years ago, making Bohning one of the oldest privately-owned companies to operate out of the same location. Northern Michigan is home to some of archery's greatest legends, so the area was a natural fit for Rollin Bohning, an avid archer and chemist, who developed the first adhesive that bonded metal inserts to wooden and aluminum arrows, alongside archery industry pioneers Doug Easton and Fred Bear. Bohning is known for their innovative, technical guidance, and dedication to every archer. As Bohning Archery will continue as a DIAMOND LEVEL sponsor of S3DA, they will provide Scholastic 3-D Archery members advice for choosing the best vanes for their bow set-up to finessing their own fletching technique. Bohning Archery consistently works toward solving issues that affect the full demographic of archers including target archers, hunters, recreational and Olympic archers.
Bohning Pro Staff Manager, DJ Hunt stated, "Bohning is thrilled to continue their sponsorship and support for S3DA. It is truly an honor to be a part of S3DA and we look forward to working with this program for many years to come. I have been blessed to be able to travel and promote the Bohning Company as a valued tradition. My experiences on these trips and the people that I meet confirm to me that our passion for archery will continue for many generations."
In 1975, Bohning created the first vane and today, the company manufactures the blazer vane, the world's number one hunting vane. Bohning produces the highest quality archery accessories for hunters and target archers, including nocks, wraps, vanes, jigs, and quivers. S3DA is grateful for the support from Bohning Archery and we invite everyone to use the tag, #itsinourvanes on social media outlets. Check out the Bohning YouTube channel here that features some videos with Scholastic 3-D archers and be sure to subscribe!
While everyone has been on lockdown from the nationwide pandemic, Georgia Coordinators have taken this time to put together and execute a plan to grow the conservation effort within Georgia S3DA. Georgia S3DA State Coordinator, Jake Martin, decided to take the state scholarship program and give it a conservation theme. S3DA students were encouraged to participate in an essay contest called "Increasing Participation in Conservation Within Georgia S3DA." During the review and selection process, one of the students had an idea to generate a questionnaire and Georgia S3DA State Conservation Coordinator, Trip Penn took the suggestion and developed a questionnaire that students participating in the 2020 Georgia 3-D State Championship answered. The questionnaire was such a success that sixteen students were invited to a clinic held at Team On-Point S3DA in Appling, Georgia.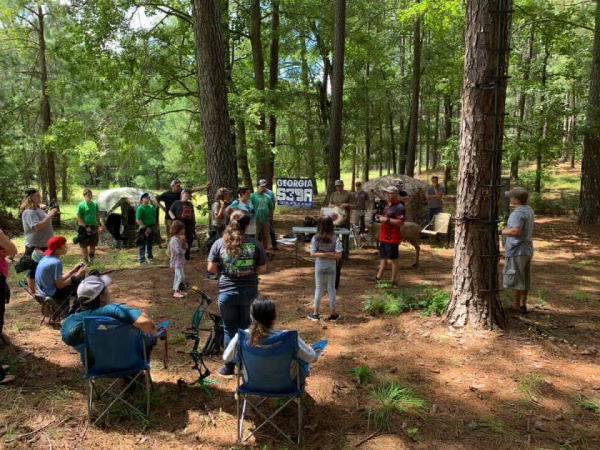 In this clinic, S3DA archers were taught ethical hunting, shot placement, tree stand safety, ground blind techniques, and crossbow familiarization. The original idea started with a Georgia S3DA sponsor, Casey Crawley of Culpepper Outdoors in Evans, Georgia. Casey approached S3DA about a program vision he had called "Bustin Bucks" and he worked directly with Trip Penn to make this event possible.
The event started with a quick presentation of explanations and definitions of terms such as broadside, quartering-away, and quartering-towards. A 3-D deer vital was used to help understand shot placement. Soon after, students were fitted for safety harnesses and were climbing a tree. For all the students present, it was their first time using climbing sticks and lock-on stands. The importance of safely ascending and descending the tree while using a lifeline and three points of contact was stressed throughout. "Safety always" was enforced but the focus was on shot placement, ethical shot choices, and proper technique while shooting from an elevated platform. "We recognize that many of these kids are not shooting high enough poundage to ethically hunt with a vertical compound bow yet, so we made a decision to add crossbows to the mix," stated Jake Martin. The crossbow was a huge hit also as students and parents alike realized that they could hunt this year and not have to wait until they were strong enough to pull more weight.
The end of the clinic resulted in ten kids from six different S3DA clubs understanding that they have the knowledge, skill, and courage to be part of the North American Conservation effort. Everyone that attended the event will have the chance to go on either a deer or hog hunt during the Fall hunting season. Georgia S3DA would like to thank Culpepper Outdoors and Team On-Point S3DA for providing the equipment during the clinic and hosting the event.