S3DA News & Tournament Results
Scholastic 3-D Archery recently signed with Outdoor Specialty Media to advertise and promote youth participation in the sport of archery. S3DA is one of the fastest growing youth sports organizations for many reasons. S3DA is entirely an after-school initiative that can be run through not only schools, but archery clubs, archery shops, churches, wildlife departments, and much more! Students are attracted to the program because they are free to use any equipment of their choice, from any brand or company, because S3DA only restricts speed limits and draw weight based on their age and shooting division. S3DA provides a natural progression for youth participants that allows them to move straight into shooting at the collegiate level, where many have earned scholarships to shoot archery. Collegiate archery programs across the country are rife with S3DA archers. The biggest reason that people want to join S3DA is the family-friendly environment and camaraderie of the organization.
Publisher and CEO of Outdoor Specialty Media Group, William Brod stated, "We are excited to work with S3DA to help promote and encourage youth to join in the sport of archery and demonstrate the fantastic opportunities that exist in this great sport." The Outdoor Specialty Media Group understands that we must educate youth on wildlife and the outdoors in order to have future conservationists. The sport of archery and the future of bowhunting is highly dependent upon youth developing an interest and having the opportunity readily available for them. The Outdoor Specialty Media Group will work with S3DA to promote archery and bowhunting to their growing readership through media exposure, focused articles, and social media channels. This partnership will also provide archers and their families the opportunity to have access to exclusive content and discounted gear through the Premium Subscriber Program.

S3DA Social Media and Marketing Coordinator, Kayla Bolton states, "Word-of-mouth marketing has been the main reason that S3DA has grown substantially in the past few years. Our current members are sharing their experience with friends, family, and their local community, which in return is piquing more interest for our program. We consistently create content for our social media feeds to keep users engaged and we have seen a substantial increase in followers on our social media channels. I am very excited that Outdoor Specialty Media Group has reached out to advertise and promote our program and I look forward to continuing the growth of this great program."
About Outdoor Specialty Media Group
Publishers of North American Deer Hunter North American Bow Hunter North American Outdoorsman
Scholastic 3-D Archery is pleased to announce Robert Webber as the Indiana S3DA State Conservation Coordinator. Robert will work with Patty Reel, S3DA National Conservation Coordinator and Greg Ashley, Indiana S3DA State Coordinator, to provide S3DA teams across the state with outdoor-related activities and education that is centered around conservation. Robert states, "I plan to attend and set-up booth space at Indiana S3DA state events and offer literature and talk with archers and their families about hunting, fishing, and outdoor activities. To me, conservation means to honor and respect nature and take care of the environment in which we live. I want to help educate people on the importance of preserving habitats and ecosystems as well as nature itself."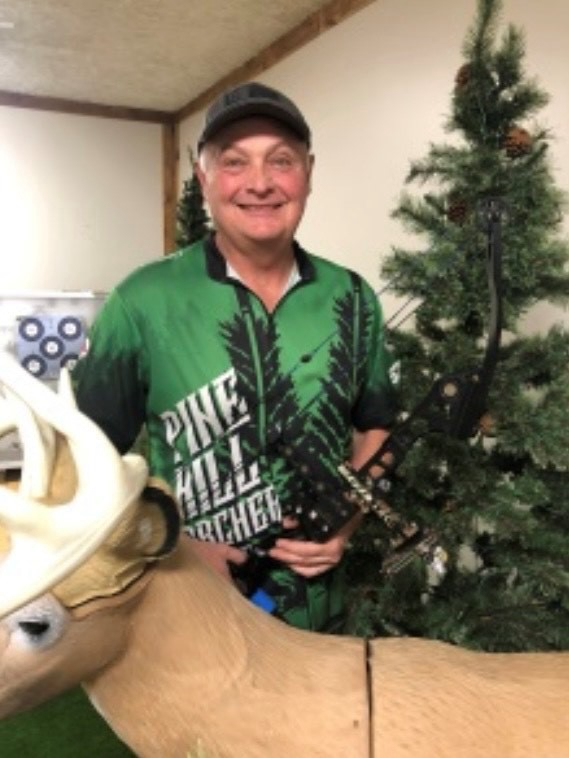 Robert was born and raised in Indianapolis, Indiana but currently resides in Avon, Indiana. He has been married forty-two years to his beautiful wife, Lisa and they have three grown children and four grandchildren. When Robert was young, he would go out hunting and fishing and would often come in contact with DNR and conservation officers doing license checks. He would ask them about their job, and he said they would always reply that they wouldn't trade their job for any job in the world. As he got older, he become very interested in that line of work. His first career choice was to be a conservation officer for the state of Indiana, but his life took him in a different direction once he met his wife and he has worked in a factory setting for Rolls-Royce for the last 45 years.
Robert is a USA Archery member, has been a member of the National Field Archery Association (NFAA) since 1990 and is a lifetime member of the National Rifle Association (NRA). He is currently Junior Director for the Indiana Field Archery Association (IFAA), Central Director for the Indiana Archery Corporation (IAC), and President of the Pine Hill Archery Club.
Robert was exploring the S3DA website and learned about the conservation side of the program. He thought this program would be a great place to start teaching youth about outdoor activities that could lead them to a lifelong hobby or career. Robert said, "I have been an avid archer, hiker, bowhunter, and amateur wildlife photographer since I was roughly 15 years old. If we would have had a program like this when I was a teenager, I would definitely have joined!" Robert went on to say that Indiana has many conservation programs, and he wants S3DA members to be familiar with all of them.
Robert will work with various organizations across the state including the Indiana DNR to share content to the Indiana S3DA Facebook page. He will attend Indiana S3DA events and take pictures and possibly some videos of archers and their families during competition and while participating in outdoor activities. Be sure to check out the Indiana S3DA Facebook page for the most up-to-date information!
KY S3DA Conservation Coordinator, Kerby Long has been building strategic connections with conservation partners across the state to help introduce the next generation of hunters to a lifetime in the outdoors. One of those connections led to Salt River Outfitters in central Kentucky which manages over 9,000 acres in Kentucky consisting of everything from large agricultural fields to oak ridges, cedar thickets, flat land, rolling hills, and limestone creek beds. Salt River Outfitters has generously partnered with Kentucky Scholastic 3D Archery for the last few years to award one deserving youth archer with the hunt of a lifetime. This year that deserving youth was Christine Cook from Southwestern S3DA in Pulaski County.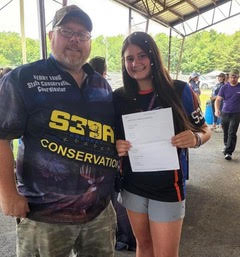 Christine said, "Salt River outfitters is an awesome place, what an amazing thing to experience! I started my journey off arriving Friday and checking into the lodge. The lodge has tons of activities, tons of mounts including full body mounts and don't forget the ax throwing, pool, and ping-pong. They took me out to make sure my gun was sited in. I was shooting a Remington 243 bolt action with a 4×12 Leupold scope. Saturday morning the guides made the decision to not go hunting. But I woke up with a wonderful breakfast ready for me cooked by the guides. Then around 3:00 in the afternoon we got prepared and went hunting. We saw about 8 does and then 3 huge bucks (biggest bucks I have ever seen) but they were chasing a doe and didn't stop. No luck Saturday night. We went back to the lodge and ate some chili and went to sleep. We woke up Sunday morning and went out and had no real luck at all, we only saw a doe and 3 turkeys so back to the lodge where we chilled out and ate some pizza. We went back hunting around 3:00 and I saw a really nice buck and shot him, he was the first thing we saw but he was solid, and I was ready for a buck! I may have not shot something on the first day, but this way I got the whole experience of the hunt. I highly recommend going on a guided hunt with Salt River Outfitters you won't regret it!! My new motto is…I like big bucks and I cannot lie!"
KY S3DA State Conservation Coordinator Kerby Long said, "We really appreciate partners like Salt River Outfitters. The hunting population is aging across the country and our youth are the next generation of hunters and outdoorsmen. We must teach them strategies for success which lead to ethical hunting and conservation. Now is the time to instill those guidelines and build upon that foundation for years to come. I'd like to encourage any conservation or hunting related groups or manufacturers who are interested in partnering with us to get more youth into hunting to contact me at kys3daconservation@gmail.com."