S3DA News & Tournament Results
Chad Simpson has been named as an S3DA Arkansas Regional Coordinator. As a Regional Coordinator, Chad will oversee the development and operation of S3DA within the Central Arkansas region, including educating and recruiting parties interested in forming new S3DA teams, working with the State Coordinator, and when possible, attending and assisting with National S3DA events.
Chad Simpson was born and raised in Oklahoma. He grew up between the Arkansas River Valley and the foothills of the Ozarks right on the Arkansas and Oklahoma state line in a small town called Roland, Oklahoma. He graduated from Roland High School in 1996 and a month later, he left for Army Basic Training. He spent five years in the Army on active duty and then came back to Oklahoma.
Chad and his wife, Carrie, have been married for 21 years and have two children, Rachel, and Drew. After the birth of his two kids, 10 years in sales and finishing college at Northeastern State University in Tahlequah, Oklahoma, Chad was offered a management position in the uniform industry. Chad took the position and was relocated to central Arkansas in 2013. Although Chad had a full-time job, his passion was with archery. Through his love of the sport of archery and the relationship he established with local archery shops, he was introduced to Bill Gartland Jr and took a job working for William J. Gartland and Associates which is an established manufacturer-sales representative agency in the outdoor industry.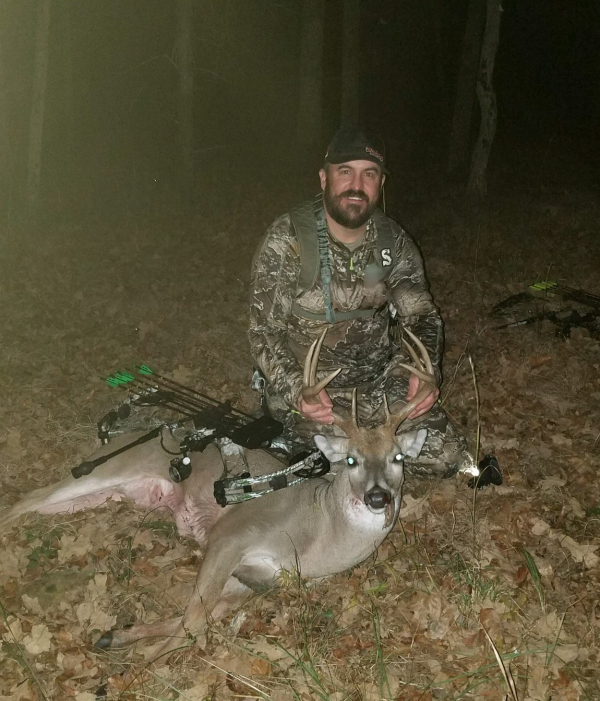 Chad got his first compound bow when he was sixteen and fell in love with archery. Since childhood, Chad Simpson has been passionate about fishing, hunting and being in the great outdoors. Chad is an avid archer and has participated in the Archery Shooter's Association (ASA) circuit since 2013. He served as President for the Central Arkansas Bowhunters in 2016 and 2017 and is currently still active with the club. In 2019, he became a Level 2 USA Archery Coach and S3DA Basic Archery Instructor.
Chad states, "I enjoy shooting archery and I am glad that I can pass the love for the sport not only to my son, Drew, but others. I look forward to seeing his progress as he grows. I am thankful for the opportunity to work with S3DA and I look forward to educating people in my region on what the Scholastic 3-D Archery program is all about."
Illinois S3DA continues to build their program by bringing on new regional coordinators with extensive knowledge of archery and conservation. Illinois S3DA is currently broken down into six regions and with the addition of these regional coordinators, there will now be representatives in four of the six regions. Illinois S3DA State Coordinator, Jim Sharp has selected three highly qualified candidates to serve as regional coordinators and will be looking for at least two additional regional coordinators to have complete regional coverage of the state.
Jim Sharp and Illinois S3DA are proud to announce that Scott Fiala, Donnie Millenbine, and Jeff Hudgens have been selected as Regional Coordinators.
Scott Fiala along with his wife, Kendra, and their two kids, Zeppelyn and Zane currently reside in Enfield, Illinois. Scott is an active coach for N.C.O.E. and White County Archery and both of his kids currently compete for the S3DA team N.C.O.E. Scott is an avid hunter and has participated for many years in NFAA, IBO, and ASA competitions. For 12 years, Scott was part owner and operator of a local archery pro shop and indoor range. Scott has years of experience and enjoys helping young archers learn more about the sport of archery. When Scott was asked about becoming an Illinois Regional Coordinator, he jumped at the idea to spread the word about archery and how it could affect the younger generation. He thought that a program where you can earn scholarships to shoot archery was a great way to further a kid's education while giving them the opportunity to shoot their bow.
Donnie Millenbine has been active in archery since his teenage years. He is currently forty-one and now married to his wife, Sarah, with two children Mallorie and Trevor. Donnie is blessed with a family that loves the outdoors, but especially archery. Together, they chase whitetails around Hamilton County, enjoying their time in the woods or traveling to participate in an archery tournament. Donnie is an S3DA coach for Hamilton County Fox Archery, the current Head Coach for the Rend Lake College Archery Team, and a certified USA Archery Level 2 Instructor. Donnie said, "Archery is one of the few sports that can stick with someone for a lifetime, through competition and conservation. I have also witnessed first-hand how this sport can fund any student's dream to compete at the collegiate level, through scholarships."
Jeff Hudgens has been in the Forestry Division for thirty plus years. He started bowhunting and bowfishing when he was twelve and fell in love with the broad range of activities that the great outdoors provides. He started competing in archery tournaments in 2012 and then began coaching 4-H and S3DA. Jeff is an S3DA Advanced Instructor and certified USA Archery Level 3 Instructor. Jeff looks to educate people across his region about the importance of conservation and the S3DA program.
"I am very excited to see where the changes and growth will take us as we are hosting events across the state nearly every weekend and we continue to promote our Illinois S3DA Scholarship program, " Jim Sharp said.
S3DA Advanced Instructor Trainers, Stacy and Randy Groce from Richmond, Kentucky recently traveled to Wellsboro, Pennsylvania to host a Basic and Advanced Instructor Training Course at Moore's Sports Center for NEW S3DA Staff as well as others. The people in attendance included: Northeastern National Outreach Coordinator, Bob Gattorna, PA S3DA State Coordinator, Patricia Butts, Eric Broughton, Pete Slusser and Bob Lauffer, as well as newcomers Nate and Heather Keeney.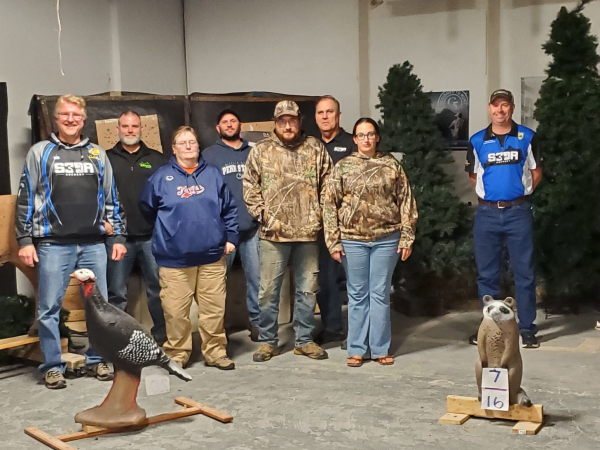 Advanced Instructor Certification: Patricia Butts, Bob Lauffer, Pete Slusser and Eric Broughton
Basic Instructor Certification: Nate Keeney and Heather Keeney
The purpose of the Advanced and Basic Instructor Course is: to familiarize candidates with S3DA's background, structure, and goals, introduce candidates to paperwork and forms necessary to start an S3DA team, and provide candidates an overview to S3DA training and competition opportunities. S3DA has recently published a brand-new Basic Instructor Course 6th Edition, which will be the new training course material going forward.
S3DA Northeastern National Outreach Coordinator, Bob Gattorna said, "Stacy and Randy Groce were very informative and thorough in their training by providing everyone in attendance with instructor manuals and some hands-on training with various styles of equipment. Participants learned about the steps involved in executing an archery shot and everyone had the opportunity to try it out. It was a great opportunity to meet and interact with the Pennsylvania S3DA State Coordinator, Patricia Butts and I look forward to working with her to continue the growth in Pennsylvania."
Scholastic 3-D Archery offers Basic and Advanced Instructor Training Courses across the United States. Be sure to check out the S3DA Event Calendar for more information on a training near you!