S3DA News & Tournament Results
Jon Munley, Palmyra Sportsmen's Association Head Coach and Event Organizer was very excited to be the host facility for the Pennsylvania S3DA Indoor Target State Championship. Many archers filled the facility to shoot their respective lines throughout the day. When asking Jon how the event went, he stated that he did not realize how much work goes into running an event of this magnitude, but he was very thankful for everyone's assistance in making sure the event went smoothly and the highlight for him was when he was setting up the shooting lane assignments. Jon stated, "Luke Shirk, from Reading Archery Club, one of the biggest guys on the line was paired up with a very young and smaller shooter. Although most archers would have been intimidated by Luke's sheer size, the younger archer was not scared at all. I asked Luke to show him the ropes and he bent down so he was at the younger archer's level and said, "We've got this, what's your name, buddy?" For me, that's what S3DA is all about."
Andy Dumbauld, a member of the archery committee at Palmyra stated, "I was impressed by the attitudes I saw displayed by the archers from the youngest to the most seasoned veterans. They all represented their respective teams and themselves well." Each archer, parent, and coach all seemed to have enjoyed the great day of shooting. Hunter Garrison shot an outstanding 150 with 28X's and 20 inside/out X's and what made this day so special for Hunter was his 1st place finish after losing his grandfather, with whom he was remarkably close with, just a few days before."
"It is great to see the numbers continue to climb upward at each event. We are very thankful for the great job Palmyra Sportsmen did in hosting this state tournament. You would never have known when walking into the venue this was their first S3DA tournament they have ever hosted," stated Reading Archery Coach, Bob Lauffer.
Palmyra Sportsmen's Association located in Central Pennsylvania hosted the 2021 PA S3DA Indoor Target State Championship with archers from across the state meeting to compete. Archers and their families were required to follow COVID facility guidelines, but everyone was very excited to be able to participate in the state tournament. Trent Rutt, member of Reading Archery Club, shot his personal best in the Youth Bowhunter Compound Class to take first place but there's more to Trent's story than just a podium finish. You see, while archers and their families have been dealing with COVID, Trent Rutt and his family have been experiencing so much more than just a pandemic.
In August 2019, Trent was diagnosed with a rare liver cancer called Hepatoblastoma (cancer found in children usually under 5) and Hepatocellular cancer (found in teens and adults). He was admitted to Hershey Children's Hospital and endured several 48-hour admissions where he underwent three rounds of chemo leading up to a liver resection on December 11th, 2019. Following his surgery, Trent had to undergo 3 more rounds of chemo but, they were outpatient, so at least he was not admitted and did not have to stay overnight.
When talking with Trent's mother, Ashley, she said that their plan was to send Trent back to school following Easter break, but then COVID hit, and all the schools were shut down. People with certain underlying medical conditions, like Trent, were more susceptible to severe COVID symptoms, so he spent his entire 6th grade year at home and Ashley took on a new role, Trent's teacher. Trent went to his last chemo treatment on March 6th, 2020. His friend, Landon, encouraged him to join the local archery club and Trent did. He began shooting for Reading Archery in August 2020.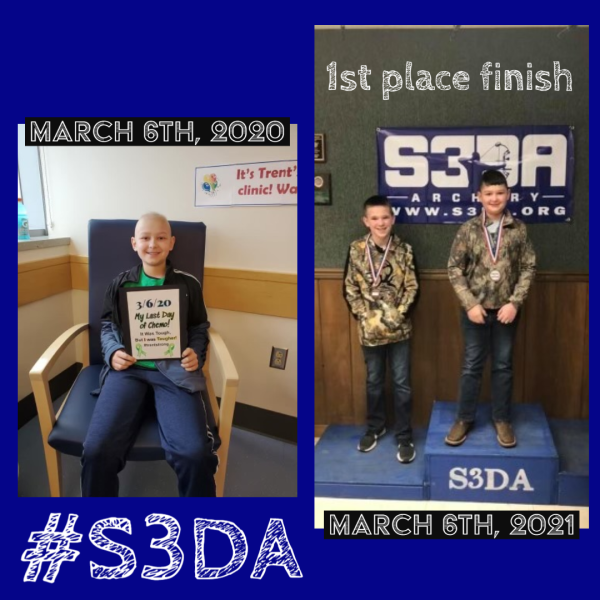 The Pennsylvania S3DA State Championship happened to fall on the one-year anniversary of Trent's last chemo treatment. While Ashley was incredibly happy, she was also emotional, and stated, "Having Trent get back to an after-school activity has really helped him build his confidence and has gotten him back to feeling like a normal kid. It has helped him ease back into being a part of a group. Trent has always enjoyed sports and enjoyed being a part of a team. The cancer really made him cautious. When he was cleared to return to physical activity, he was leery about rejoining any team, for fear he would get hurt. Archery has been that confidence booster that he needed to help him find his strength again. Archery has also given Trent and his Dad another outdoor activity to bond over. In fact, one huge bright spot for the year happened on December 11th, 2020, when Trent was able to harvest a 4-point buck with his gun."
Every year a new generation of archers line up at the shooting line and while we have no idea what they may be going through or what is on their mind, we can all relate to the enthusiasm and spirit that each child brings to the competition. For Trent, there is no more chemo and many fewer follow up appointments. Fast forward to today when Trent is now able to go to school and be a normal 13-year-old boy. As many are aware, having archery to concentrate on can help get you through a very tough time, Trent is proof of that.
In order to comply with the local COVID guidelines, Michigan S3DA hosted the Indoor State Championship at Rising Phoenix in Troy, Michigan and Central Michigan Sportsman's Club in Stanton, Michigan. The state championship was held over a two-day span with approximately 74 archers participating from 5 S3DA teams. To provide an extra layer of safety, each hosting facility offered multiple line times, provided hand sanitizer, limited the number of spectators, and enforced social distancing and facemasks except for when archers were on the line and in the act of shooting. Central Michigan Goldstar archer, Logan Fouts said, "Even with all the difficulties of trying to remember to put my mask back on, it was great to be able to compete again and shoot with my teammates and other teams."
One of the line judges, Toni Falk reflected on the event, "What a pleasure it was to be a part of the 2021 MI S3DA State Tournament. Officiating gave me the opportunity to both observe and interact with an amazing group of youth competitors. I was especially touched interacting with two ladies in the same scoring group who were so close in score it appeared that it could go either way. In the very last end, one of the girls shot her best end of the day with five inside out x's and the other girl had a miss. My thoughts were as I observed the scoring group, this is going to be a hard way to finish for one of these girls, but that was not the case at all. While I quietly observed, the girls moved from scoring the target with the miss to the target with 5 inside out x's. When the five circled "Xs" were recorded, without hesitation, the archer with the miss recorded in her last end and congratulated her competitor with a high five for the awesome competition and finish. I walked back across the range thinking there is more than one winner at that bail. These kids are so inspiring!"
"Watching Michigan S3DA grow has been such a blessing. This was our biggest tournament to date, and it was outstanding! I am sure that all would agree that watching the way these young men and women congratulate and encourage each other is so rewarding. These kids make me proud to be a representative for this program. The friendships we have all built will last a lifetime," stated S3DA Michigan State Coordinator, Cara Waite.
Michigan S3DA would like to thank everyone that volunteered or participated in the Indoor State Championship. An extended thank you to Lindsey Wilson College and Union College for the scholarship certificates that were presented to the young adult podium place finishers.