S3DA News & Tournament Results
At the 2020 S3DA 3-D National Championship, S3DA provided anyone on-site the opportunity to purchase as many raffle tickets as they would like for a chance to WIN a Sponsor Prize Package raffle. Items for the raffles included: G.A.S. Bowstrings High Octane String & Cable Set Gift Certificates, Bohning Shooter Stool & Multi-Fletcher, Mantis X8, Xpedition Archery DLX in Fluorescent Purple, American Whitetail – S3DA Black Series Cube Target, Kirsch 3-D Target – Billy Goat Poldi, Last Chance Archery Pocket Shop, Hat & Fletching Glue, Lancaster Archery Gift Card, Brownell & Co. B-60 Velocity Shield Backstop Netting, HHA camouflage caps and (2) HHA Sports Optimizer-Lite OL-5019 bow sights, Bear Archery Paradox RTH compound bow in Fred Bear camo, Trophy Ridge Stabilizer, Trophy Ridge Sync MD and Trophy Ridge Hex light quiver, Truball releases, Easton BowGo Black Bowcase and Flipside 3-Tube Quiver (black), Delta McKenzie IMP Target – Mini Goblin, Art's 3-D Targets – Undead Fred, PSE Archery Centrix SD in Black Cherry and camouflage caps, Collegiate Fan Gear and much, much more!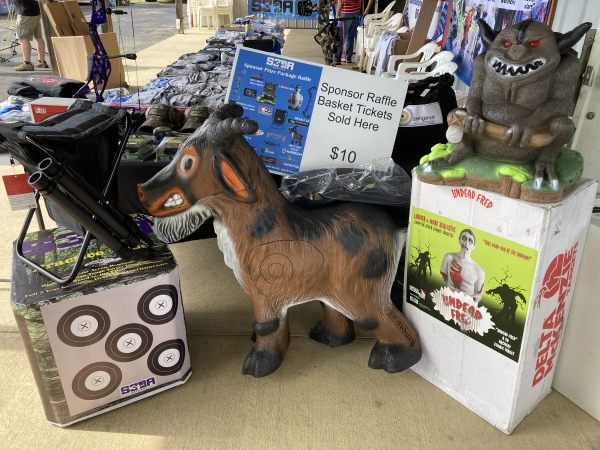 PSE Archery representative Austin Ashcraft and S3DA staff picked a winner for three (3) raffle baskets consisting of a compound bow, 3-D target, and other various items from several S3DA sponsoring organization company's product lines. With hundreds of entries for a chance to WIN, the three winners announced were: Tony Troxel, Coach for Hephzibah Straight Shooters in Georgia, Cheyanne Watkins, student member of Hawthorne Christian Academy in South Carolina and Amanda Adcock, S3DA coach in Arkansas. Scholastic 3-D Archery (S3DA) is extremely grateful for the sponsors and partners who have been instrumental in assisting with the growth of the program from the local to the national level. This program would not be where it is today without the help and support from various companies across the United States.
The mission of the Scholastic 3-D Archery (S3DA) program is, "To foster, educate and guide youth in the areas of indoor target, 3-D and outdoor target archery as well as safe, ethical bowhunting practices." The goal of the S3DA program is to provide archery and bowhunting opportunities for young people in after-school settings as well as with archery-affiliated clubs and businesses in the community. S3DA provides an effective after-school archery program, focusing on Indoor 5-spot, 3-D and Outdoor Target archery and the certification and tools to deliver the instruction to youth. As a result, S3DA expects to see increased participation in 3-D and target archery by youth and parent archers using compound bows and traditional archery equipment while also helping to increase participation at local, state, and national archery events. In addition, S3DA expects to help provide a basic understanding and respect for our natural resources, environment, and nature, with a special emphasis on the modern wildlife conservation and regulated sport hunting.
Scholastic 3-D Archery held the 8th annual S3DA 3-D National Championship at the Laurel County Fairgrounds in London, Kentucky on July 23rd through 26th. "We are certainly thankful that we were able to proceed with the 2020 3-D National Championship after being forced to postpone the Indoor National Championship in March and then change it to a virtual format due to the global pandemic. There were absolutely some obstacles to overcome due to the current social distancing guidelines but with the assistance of the Laurel County Health Department, London-Laurel County Tourism and teamwork from our staff and volunteers, we were able to have an exceptional event for our student members," stated Holly Helton S3DA Operations Manager. With the prolonged shutdown of most states, archers unfortunately, weren't left with many opportunities to hone their 3-D skills this year as most S3DA Regional and State Tournaments had been cancelled but the archers took that in stride and pounded arrow after arrow in the 12-Ring for some amazing scores over the long weekend of competition.
The archers and their families took part in not only the tournament but also several bonus events that were held such as the North American Big Game Bowhunting Challenge, Kirsch Target Challenge, and the Delta McKenzie Long Shot Challenge. Georgia S3DA Conservation Outreach Coordinator, Trip Penn and his wife, Kim set-up a conservation booth that allowed S3DA student members the chance to participate in a short quiz and scavenger hunt on-site to WIN conservation related prizes! Glen Mayhew with TSSA (Tree Stand Safety Awareness Foundation) was also on-site to provide archers with tips and information to keep them safe while hunting this fall. He was able to speak to many archers and their families while also giving away some amazing merchandise from TSSA sponsors.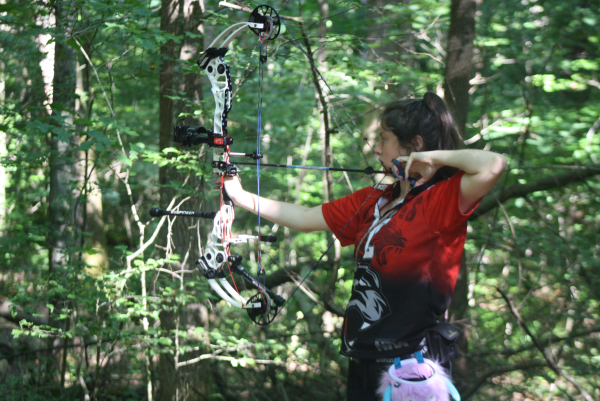 "As I was on the range taking pictures, I was truly amazed at the display of sportsmanship from all archers. When I got to the High School Female Bowhunter Compound Class, I witnessed Senior Kynsley Redmon helping one of the girls in her group that had never shot a national event before. I stopped by the stake where they were shooting and spoke with the girl's father. He said he was extremely grateful for the advice that Kynsley provided his daughter and he was thrilled that for her first national event she had been paired with someone who had a tremendous amount of experience in archery competition. Across the three days of competition, it was impressive to see experienced archers being mentors to the next generation of shooters," stated S3DA Social Media & Marketing Coordinator, Kayla Bolton.
S3DA would like to send a special thanks to the vendors, sponsors, and partners for being a part of this unique event. S3DA is also grateful for Easton Technical Products for the donation of gift certificates for a dozen Easton arrows and PSE Archery which donated PSE caps to the 3-D National Champions of each class and division. Also, a very special thanks goes out to ASA President, Mike Tyrell for blazing new trails in the endeavor to have archery tournaments in the midst of a global pandemic. Finally, a successful event such as this would not be possible without dedicated parents, coaches, and Regional/State Coordinators who volunteer their time selflessly to make sure that these student archers are focused and safe, but most of all, having fun.
Please see the scores from this event here.
Note: There are three tabs across the bottom to indicate Elementary, MS & HS. 
The Scholastic 3-D Archery program (S3DA) is pleased to announce the S3DA 3-D National Championship will be conducted July 23rd-26th in London, Kentucky at the Laurel County Fairgrounds. S3DA will offer some fun bonus events that include a (20) target 3-D practice range, Delta McKenzie North American Big Game Bowhunting Challenge, Kirsch Target Challenge, and a Delta McKenzie Long-Shot Challenge.
The North American Big Game Bowhunting Challenge will consist of ten big game Delta McKenzie 3-D targets modeled after big game wildlife common in North America including the Elk, Caribou, Antelope, Big Horn Sheep, Strutting Turkey, Mountain Lion, Standing Bear, Black Bear, Mule Deer and Large Alert Deer. The Kirsch Target Challenge will consist of ten newly developed Leitold 3-D targets built specifically for S3DA family-friendly competition.
The Delta McKenzie Long-Shot Challenge will consist of Whitetail Deer 3-D Targets placed at distances greater than the maximum distance for each student's normal division and class. Participants will attempt to hit an orange dot on the target to receive an on-site prize. Everyone who participates in the event will be entered into a drawing to WIN the target they were attempting to hit.
Each S3DA student and their adult mentor will be required to shoot these 3-D target challenges from various distances. Students will participate with their regular equipment in their normal division/class and the totals from each student and their mentor will be combined for an ending score. Each student/mentor team will compete against other student/mentor teams in the student's age-division and shooting class. Each student/mentor team can participate as many times as they like for an additional cost.