S3DA News & Tournament Results
Scholastic 3-D Archery hosted its 4th annual S3DA Outdoor Target National Championship on July 16th-18th, 2021 in Fairfield, OH. The event was held at Joyce Park, a 300+ acre spread of green space offering multiple playgrounds, picnic shelters, sports facilities, bike paths, hiking trails, and restrooms. Over 250+ student archers from 68 various teams and 13 states met to compete for their chance to earn the title of "2021 S3DA Outdoor Target National Champion". Students and their families were excited to just be able to compete in this event again, as last year the event was cancelled due to the COVID pandemic.
The Outdoor Target competition consisted of archers shooting two rounds of 6 ends of 6 arrows at the designated distance for their division and class over a two-day span for a total 72-arrow target round. After all archers completed their qualification rounds, they were seeded into a bracket based on their qualification scores to compete in head-to-head elimination matches derived from the top 4 archers in the Eagle division, top 8 archers in the Youth division, and the top 16 archers in the Young Adult division. Olympic Recurve and Barebow archers competed on the 122 cm target face, while Bowhunter Compound and Open archers competed on the 80 cm 6-ring target face.
As competition began on Friday morning the sun was shining bright and the Jr. Eagle and Eagle archers gathered to take the field to shoot their first scoring round. As their line concluded, the Youth archers were up next and storm clouds in the distance could be seen rolling in. The Tournament Staff did an excellent job of watching the radar and keeping everyone safe. All the Youth archers were able to get their first scoring round in and then everyone took immediate shelter, as there was a short weather delay with heavy rain and lightning. With scattered storms across the region, everyone was thankful to experience only the one weather delay for the entire weekend.
This event would not have been made possible without the help of Ohio S3DA State Coordinator, Billy Lawson, Jim & Liz Coombe, Director of Shooting, Darrell Pace and a remarkable team of tireless USA Archery Judges, dedicated parents, Coaches, State & Regional Coordinators, and many volunteers, who selflessly pledge their time to make sure these student archers are focused and safe, but most of all, having fun while competing.
The S3DA National Staff is already hard at work planning future events and looking forward to the 2022 S3DA season that will include more tournament, conservation activities, and events than ever before!
Scholastic 3D Archery is excited to announce Black Eagle Arrows has renewed their Bronze Level Sponsorship. Black Eagle Arrows offers a wide variety of products including but not limited to arrows, bushings, components, nocks, shafts, etc. S3DA archers from across the country shoot Black Eagle arrows not only for competition but also when hunting. Black Eagle Arrows Office Manager, Jennifer Kitts states, "Our family here at Black Eagle Arrows, is thrilled to partner once again, with S3DA! We know the value of investing in our youth through the love of archery. Growing up together, one well-placed arrow at a time."
S3DA Parent Aaron Tuttle is very committed to Black Eagle Arrows. When talking with Aaron about Black Eagle products he stated, "I absolutely love the Black Eagle PS23 arrows. My son, Josh Phillips, is a member of Believer Archery in North Carolina and his coach got him hooked. My son and I both shoot Black Eagle with our hunting bows and in competition archery.
Black Eagle Arrows is a family owned and operated business in Canton, Georgia, started by avid outdoorsmen with the goal of offering the highest quality products at the best price. They developed the best carbon shafts on the market and figured out a way to sell a premium product, at a lower cost, with no sacrifice in quality. For more information about Black Eagle Arrows, visit their website at: https://www.blackeaglearrows.com/.
Scholastic 3-D Archery recently furthered its mission to bridge the gap between beginning archery programs and target archery by completing the 9th Annual S3DA 3D National Championship. The 2021 event was held at the Laurel County Fairgrounds in London, KY and featured over 800 amazing youth archers from across the country all vying for their shot at being crowned a "National Champion" in their division and class. Youth archers from Montana to Pennsylvania convened on the fairground ranges while hoping their aim stayed true. Collegiate archery programs (University of the Cumberland's, Union College, Lindsey Wilson, Southern Illinois College, Campbellsville University and Kentucky Christian) were on hand to offer high school archers with significant scholarship opportunities during the event. These collegiate coaches also facilitated the Young Adult division shoot-downs for awarding of the final podium finishes and was much enjoyed by everyone in attendance.
Vendors, archers, and spectators filled nearly every inch of the vendor village while the Conservation Camp was held in an adjoining field and featured representatives from the Tree Stand Safety Foundation, United Trappers, Quail & Upland Game Alliance, Kentucky Department of Fish & Wildlife who held a range day for youth hunters looking to get their Hunter Safety Card and other similar organizations. Demonstrations were also held on topics such as game trapping and snare setting.
The event also featured the Delta McKenzie North American Big Game Bowhunting Challenge as well as the long shot challenge both of which are events that Delta McKenzie Targets sponsors. The North American Big Game Bowhunting Challenge features parent/child teams who both shoot various 3D big game targets like grizzly, elk, and caribou. Once both team members have completed the course, their scores are tallied and compared against other archers in the student's division and class. This brings a family aspect to the event as well as tying into the conservation aspect of the S3DA program.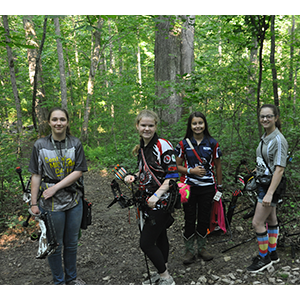 "We really couldn't have asked for better weather for this tournament. London, KY in June could bring just about anything in terms of weather, but we were blessed with sunny days and little rain. It's absolutely wonderful to see kids able to get back in touch with their archery families and just enjoy being together and slinging some arrows. Despite being very competitive, most of these archers are just glad to have a chance to get back to a sense of normalcy," said S3DA Program & Event Support Coordinator, Amanda Long.
HOYT Archery Vice President of Sales, Tom Driffill said, "On behalf of everyone at HOYT, I would like to congratulate all of the archers that came out for the S3DA event in London, Kentucky! We would also like to thank the S3DA team for all of their hard work, commitment and vision to grow the sport of archery. It's always humbling to be a part of these events and see our youth with so much passion and energy for our sport. HOYT is a proud sponsor of S3DA and we look forward to a lasting partnership that creates opportunity for this new generation of archers and beyond! Great work team S3DA!"
S3DA would like to thank the London-Laurel County Tourism, Mike Tyrell and the Archery Shooters Association, as well as all of the S3DA coordinators, coaches and volunteers who helped make this event the best one yet! You deserve a sincere and heartfelt THANK YOU!