S3DA News & Tournament Results
Southwest Tennessee Archers is a longstanding NFAA and ASA club in West Tennessee that became involved with S3DA several years ago. Recently, Southwest Tennessee Archers hosted the 4th Tennessee S3DA 3D Regional Tournament in Finger, Tennessee. The staff did a wonderful job of setting up the course to make sure the 3D targets were spaced out enough to create a long, winding trail. The terrain of the range presents some unique challenges for footing and leveling, and the slightly wooded area makes for some difficult shots, but the archers didn't let that stop them from doing an awesome job and having a great time. Nearly 100 archers from eleven S3DA Teams met to compete for their chance to not only earn a place on the podium but qualify for the Tennessee S3DA 3D State Championship.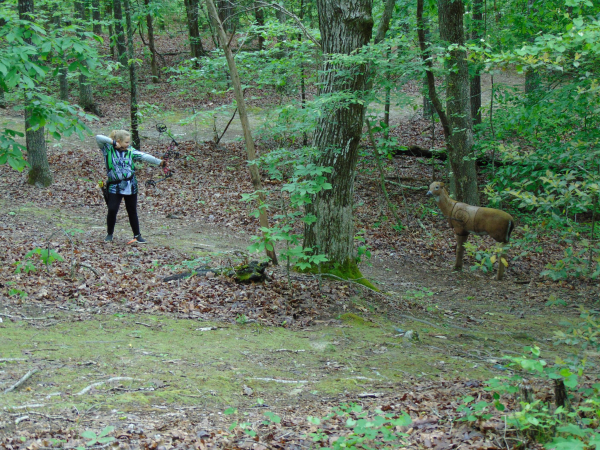 Robert Carter, Tennessee S3DA State Coordinator said, "As always, Southwest Tennessee Archers did an awesome job setting up the range and coordinating the event. They are a staple in the West Tennessee archery community. We are so thankful to have them as a part of our Tennessee S3DA family. We look forward to working with them in the future for hosting events and we look forward to our upcoming 3D State Championship at Buffalo Ridge in Waverly, Tennessee. I can't wait to see more smiling, happy faces on the range and help our youth to learn more and more about the sport of archery."
Southwest Tennessee Archers Coach, Ricky Weaver stated, "I am very happy to host for TN S3DA and we welcome everyone to come out to our facility. I am very excited about this partnership with ASA. I look forward to hosting a Tennessee S3DA 3D regional next year and hopefully making that event an ASA dual qualifier. This will provide adults the opportunity to not only watch but compete and allow the youth the opportunity to qualify for two events."
For more information on the Tennessee S3DA program, be sure to checkout the Facebook page here!
Daviess County Gun Club located in Maceo, Kentucky, minutes from Downtown Owensboro, recently hosted the Kentucky S3DA Owensboro Archery Club 3D Regional Tournament. Over two-hundred archers representing 18 S3DA Teams from across the state of Kentucky met to compete and qualify for the Kentucky S3DA 3D State Championship coming up in June in London, Kentucky. Archers definitely brought their best game as there were two shoot-offs to determine podium placement. This was Daviess County Gun Club's second year hosting the 3D regional qualifier and the largest attendance to date. Cedarstix Archery and Outdoors donated a Mathews V3X for a raffle.
Kentucky S3DA Regional Coordinator and Owensboro Archery Club Coach, Adam Logsdon stated, "We had the largest turnout to date – post covid and it was great to see everyone come out. We had a few archers that shot from a new team that just joined the program, Ohio County Archery Club. I love seeing the archery community grow throughout the state and it makes me excited for the future of the program."
Stella Dowdy, an archer from Western Kentucky Bowhunters has been participating in S3DA for two years now. Stella began shooting between 6 to 7 years old in the program at her church. Stella said, "I really enjoyed the course this weekend and I want to shoot it again. A few of the shots were hard, especially target #20. The shot was twenty yards, and the deer was located over a little rise in a hill. You couldn't see the legs of the deer, which made the target appear more difficult. I felt confident with my range finder, and though the target made me nervous, it didn't affect my overall score. I did well enough to take first place within my division."
"I loved how the course was set-up. I liked how we had uphill and downhill shots and how the yardages were spread out. Having the targets spread out like they were provides not only a tough competition but prepares us for 3D events on down the road," stated Annabell Jackson, a youth archer from Owensboro Archery Club.
For more information on Kentucky Scholastic 3D Archery, be sure to check out the Facebook page here.
Southern Hospitality is alive and well within the quaint town of Fort Mill, South Carolina. The welcoming staff at Fort Mill Bowhunters 3D Archery Club provided South Carolina S3DA an interesting but challenging 3D course. With more than 100+ in attendance, the range was covered with archers of all ages. Many of the parents were super excited to be outdoors with their children and watch them fling some arrows. Point-On Archery S3DA youth archer, Maddie Hanley said, "We have shot at this location several times. The course is somewhat challenging with a variety of distances and animal sizes. I still get excited every time I get the chance to come to this venue."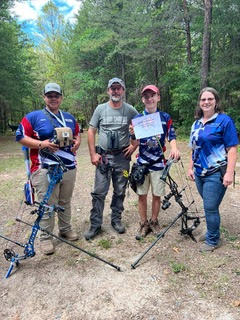 South Carolina State Coordinator, Sheila Tadlock stated, "As I was preparing to leave for the tournament, I opened the front door to realize that it was pouring down the rain. So, that meant that I needed to go back and grab an umbrella and some mud boots. One thing about the South is you never know what kind of weather you are going to get. Driving thirty minutes in and out of the storm we got to the facility to discover that the range was dry. There was a beautiful double rainbow over the club headquarters that reassured me it was going to be a great day. As archers and their families arrived, you could hear children calling out to their teammates and see them grabbing bows, quivers, and arrows from the vehicles to hurry off to the head of the range."
Center Point Archery Coach, Amanda Miller stated, "I personally thought the tournament was amazing! I love being able to go out there and watch these kids. I just love how all their faces light up with excitement."
For more information on South Carolina S3DA, be sure to check out the Facebook page here!