The Central Michigan Sportsman's Club located in Stanton, Michigan is dedicated to practicing and teaching safe handling of guns or bows used for recreational purposes or hunting. The Central Michigan Sportsman's Club staff along with the Michigan S3DA staff teamed up and created a beautiful and challenging 3D course to host the Michigan S3DA 3D State Championship. Archers from S3DA teams across the state met to compete. Chad Stewart from the Michigan Department of Natural Resources attended the event and gave a presentation on wildlife, natural resources and conservation for archers and spectators. Michigan Outdoors filmed parts of the event and interviewed archers for a segment on Michigan Outdoors.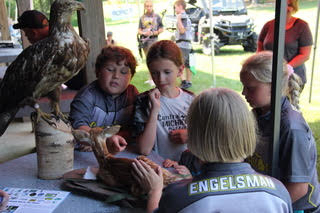 Michigan S3DA Regional Coordinator, Kasey Smith stated, "Young archers from all over Michigan braved the heat as they competed for podium finishes and scholarship opportunities. The top five archers in each qualifying division competed in the shootdown. Through each shot, the anticipation built as placings were shuffled right until the end by narrow margins and some were separated by bonus rings alone! There were smiles all around as kids took the podiums after a long day of shooting. I look forward to next season with Michigan S3DA as we continue to grow and add memberships and teams across the state."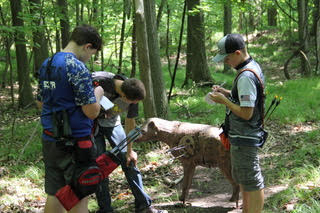 "I love the friendships that I have made since joining S3DA. The State Championship was fun and challenging. I was so nervous going into the shoot downs, but it ended up being so much fun. I realized in that moment that this is where I am meant to be," stated Hunter's Den archer, Emily Housepian.
The biggest highlight from the event was the amazing sportsmanship that Michigan S3DA archers displayed. Everyone was so supportive of each other during the competition and the shootdowns. Everyone agreed it was amazing to just sit and watch the Jr. Eagle archer's reactions to the Young Adult archers, as a lot of the younger kids definitely idolize the older students.