Michigan S3DA archer, Alessia McGivern, is a member of Jackson County Outdoor Club and was drawn this Fall by the Kansas Department of Wildlife to participate in a whitetail deer archery hunt. Alessia and her dad, Travis, went to Eldorado, Kansas for a week of hunting at the property of Barrett Pirtle. Alessia and her dad did lots of scouting with Barrett in between hunting. On the third night of hunting, after passing up some smaller size does and bucks, Alessia finally closed the deal on a large size doe. The doe came in with another smaller doe, and she took the shot at 25 yards with her Bowtech compound bow.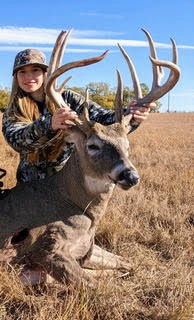 Two days later, Alessia was hunting early morning when she saw a beautiful buck at around 80 yards. The buck was hesitant about coming in closer, so Alessia decided to take the long range shot and was able to harvest this buck with her Scorpyd crossbow. This is the biggest buck that Alessia has been able to harvest to date! Alessia had a great shot on both animals thanks to lots of practice and making sure her equipment was sighted in perfectly.
Alessia said, "This hunt meant a lot to me because I was able to hunt whitetail deer in a new state and I shot my biggest buck to date! I was able to spend the whole week with my dad, who is my biggest supporter and always challenges me to train hard and always do my best. I encourage other youth hunters to take advantage of any opportunities they get and enjoy all the experiences in hunting."
Alessia and her family are very proud of her accomplishments. The McGivern family would like to send a special thanks to Barrett Pirtle and his family for making this hunt possible.