Midlands Archery Center was created to help meet the growing demand for archery in the state of South Carolina. Teresa Deliz is the owner and Head Coach for Midlands Archery Center S3DA Team and she will be quick to tell you that at a time when COVID restrictions are in place and affecting student ability to shoot and compete with their school teams, those students ARE looking for alternate organizations. There seems to be a need for family-friendly activities during the pandemic and for many, S3DA is filling that need. South Carolina S3DA has more than doubled their membership across the state since last season and State Coordinator Sheila Tadlock does not anticipate the need to go down anytime soon. This regional saw 81 archers from eleven teams across the state compete for their chance to qualify for the Indoor State Championship.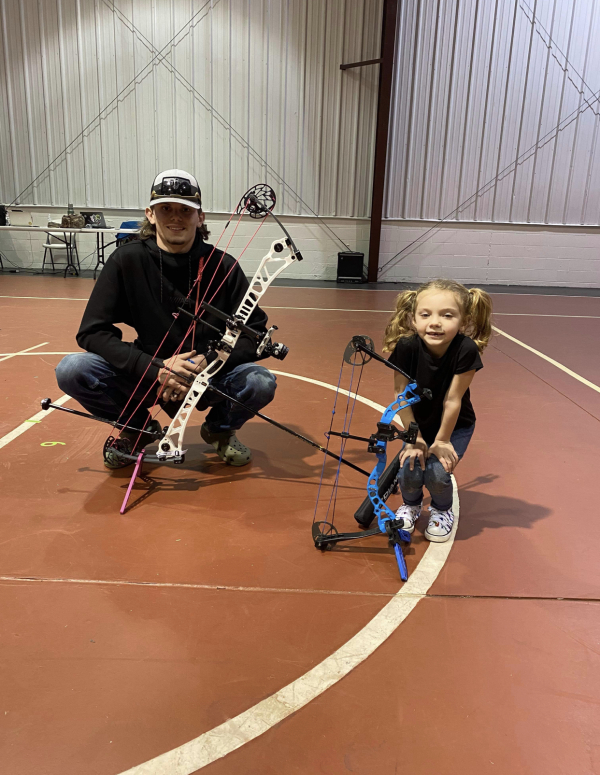 However, between the flight times is where the magic happened! April Penny was able to capture the picture of Young Adult Senior Ethan Todd and the youngest SC S3DA member in the Jr. Eagle Division, Alexis Jones (age 5) comparing their compound bows. The love of archery continues to grow with every tournament as South Carolina S3DA seasoned archers are so encouraging to the new members.
Spartan Archers Grandparent, Mark Cook said, "What a great bonding experience for us with four of our kids! We love how this program promotes both individual challenges and teamwork. It's awesome because kids of all ages can do this together."
"Our family has been part of S3DA for about two years. Sheila and I team work tirelessly to provide a safe, wholesome experience for children and teens of all skill levels. They are always ready and willing to answer any questions or concerns. The older kids are great role models for my son, Karson, and many other children and are always offering help to the children when needed. S3DA is what we call our extended family, "stated Academy Christian Team Parent, Joshua Mulkey.
South Carolina S3DA State Coordinator, Sheila Tadlock, stated, "We were very blessed to hold four indoor regionals with a record-high number of competitors. Our parents, grandparents, and archers worked well together to ensure a safe and fun day of competition. We would like to thank University of the Cumberlands, Union College and Emmanuel College for the scholarship certificates."