Scholastic 3D Archery is pleased to announce Jason Kirby as the Wisconsin S3DA State Conservation Coordinator. Jason will work with Robert Dunaway, S3DA National Conservation Coordinator and Dan Schroeder, Wisconsin S3DA State Coordinator/Wisconsin Dep. Of Natural Resources Archery Education Program Administrator, to provide S3DA members and teams across the state with outdoor related activities and conservation education. Wisconsin S3DA wants to provide youth archers and coaches the basic understanding and respect for our natural resources, environment, and nature, with a special emphasis on modern wildlife conservation and regulated sport hunting.
Jason has been married to his wife, Beth, for twenty-four years and they have four kids. He is a Maintenance Coordinator for BRP in Sturtevant, Wisconsin. Growing up, Jason and his family went to the racetracks and car shows. He didn't get into camping, until he met his wife, who was a lifelong camper. He got into fishing during camping trips and then enjoying it with his kids and at other times as leisure for himself. His friends asked him for several years when he was going to get into hunting, and after some research he decided that wild turkey hunting was going to be his first entry point to the world of hunting. He was successful in his third season and truly enjoys the adventure.
During his research, he investigated the world of white tail deer hunting and a couple of people challenged him to bow hunt. That seemed very interesting, especially considering that he did not own a bow. He bought a bow and joined a local archery club called Kenosha Bowmen. He learned so much from the great members and long-time archers that a little over a year after joining the organization they needed a secretary and someone willing to help more with their structure. He became the Secretary and while serving some folks provided information about a new youth-oriented program called S3DA. Jason decided to bring it to the Kenosha Board for approval and after several meetings he was approved to start an S3DA team. Since then, Kenosha Bowmen has grown from just a few kids to over 30+ kids competing at regional, state, and national events. In 2021, he was elected to be the President of Kenosha Bowmen.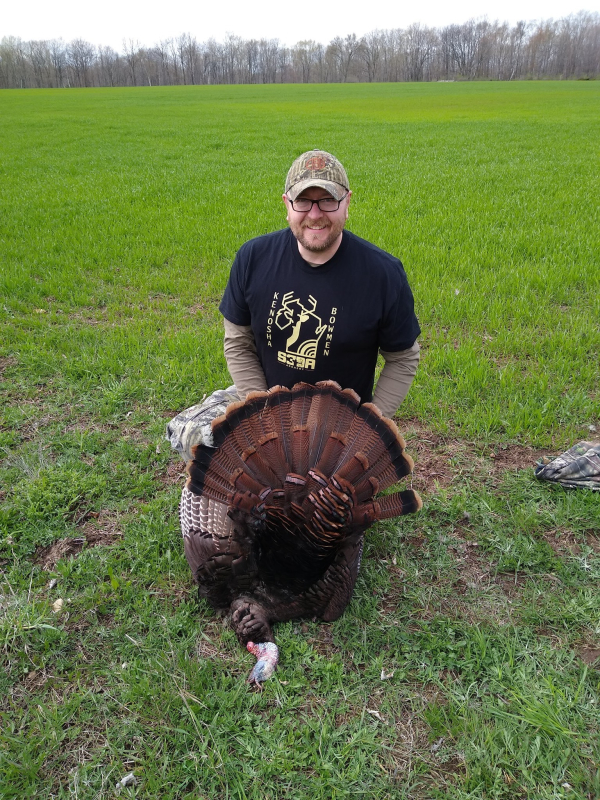 Jason said, "I've been supported by an amazing group of parents, instructors, and coaches over the past four seasons with everything from fundraising, to organizing, to coaching, and hosting shoots. In Wisconsin, hunting, fishing, camping, and conservation have a rich history and are deeply seated in our culture. We've seen the same decline in participation and license purchases as many other states. Many kids and families simply aren't exposed to the natural beauty of our state and all that it has to offer. I come to this position from a slightly different perspective than others. I am looking at this as a person who was not raised in these traditions and has found their own way in the outdoors. I can see the problems and uncertainties that come from not knowing who to ask, what to ask, and when to ask about how everything works."
Jason's main goal is to expose youth and families that are unaware of the joys of hunting, fishing, camping, shooting and the outdoors in general. He wants to bridge the gap between what society has negatively taught young people about hunters by showing the incredible impact the hunting community has in supporting the environment, clean land, clean water, clean power, etc. Kids retain more than we tend to think that they do and teaching them about conservation and the environment is extremely important for future generations. Jason says that working to maintain, increase and improve habitats, as well as the science behind herd management is all part of what youth and their families need to learn more about.