Scholastic 3-D Archery is excited to announce Brownell Archery as their latest "Silver Level" Sponsor. In addition to bowstrings and serving materials, Brownell Archery offers backstop curtains designed to offer a safe training environment for young archers. The Stringshot B60 Safety Backstop nets compliment S3DA's mission to foster, educate and guide youth in safe outdoor target archery and bowhunting practices. As part of their sponsorship, Brownell Archery will provide S3DA a credit line for the Stringshot B60 Safety Backstop nets, which allows S3DA members the opportunity to purchase backstop nets directly through S3DA at a discounted rate.
Matthew Newton is an S3DA coach of the JP2 Knights in Hendersonville, Tennessee. As S3DA is a next-step program, most of the students on Matthew's archery team are relatively new to the sport. For safety purposes and to help students not lose arrows, Matthew began looking for a netting that was reliable and durable to use at archery practice. Matthew heard about the backstop nets that Brownell Archery provided to S3DA and the rest is history. Matthew currently uses the backstop nets for archery practice at the High School and said he was super impressed with the quality and durability of the netting.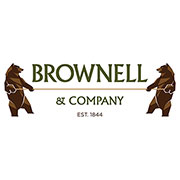 "We believe that S3DA is a main contributor to the future of archery in the United States. Brownell Archery wants to support growing organizations such as S3DA which provide education and sports guidance training to youth," stated Gustavo Rizo-Patron, Chief Executive at Brownell & Company. Simon Proctor, General Manager of Badinotti North America added, "We look forward to collaborating with S3DA as we continue to share the Brownell brand with a new generation of archers."
About Brownell & Company
Brownell & Company has been a worldwide leader in bowstrings and serving materials for over 80 years. Brownell was a pioneer in designing and making their own manufacturing machines. This allowed them to produce high quality Brownell Archery bowstring materials. Brownell & Company also offers archery backstop nets under its Stringshot brand. Brownell & Company is based in North America and beginning in 2019 is part of the Badinotti Group. With headquarters in Milan, Italy, the Badinotti Group is an international company with manufacturing and sales offices across Europe, North and South America. The Badinotti Group is a leading manufacturer of quality netting products for aquaculture, commercial fishing, sports (archery, baseball, soccer, golf) and industrial safety netting industries.
Contact Brownell & Company at:
https://brownellarchery.com/ or Ph: 778-560-2479 EXT: 504
Media contact: Miriam Salmeron at miriam.salmeron@brownellco.com or Mobile Phone: 250-204-1831