Vincent LoPiccolo has been named as a Regional Coordinator for New York S3DA. As a Regional Coordinator, Vincent will oversee the development and operation of New York S3DA within the eastern region, including educating and recruiting parties interested in forming new S3DA teams, working directly with the Northeastern National Outreach Coordinator, Bob Gattorna, and attending and assisting with local archery shoots. Vincent will promote and encourage the growth of S3DA across New York as well as help Bob Gattorna and the neighboring states Pennsylvania, New Jersey, and Connecticut.
Vincent was born and raised in Beacon, New York, located in the mid-Hudson Valley Region of what would be considered the southern third of the state. He currently resides in the town of Montgomery in Orange County, New York with his wife, Jill, and their two sons, Vincent Jr., and Dino LoPiccolo. Vincent's dad was an avid bowhunter and his biggest influence. He introduced Vincent to the outdoors at a very young age. Vincent attended his first 3D archery event at a local sportsmen club around the age of eighteen. His friend introduced him to a whole different challenge with a bow.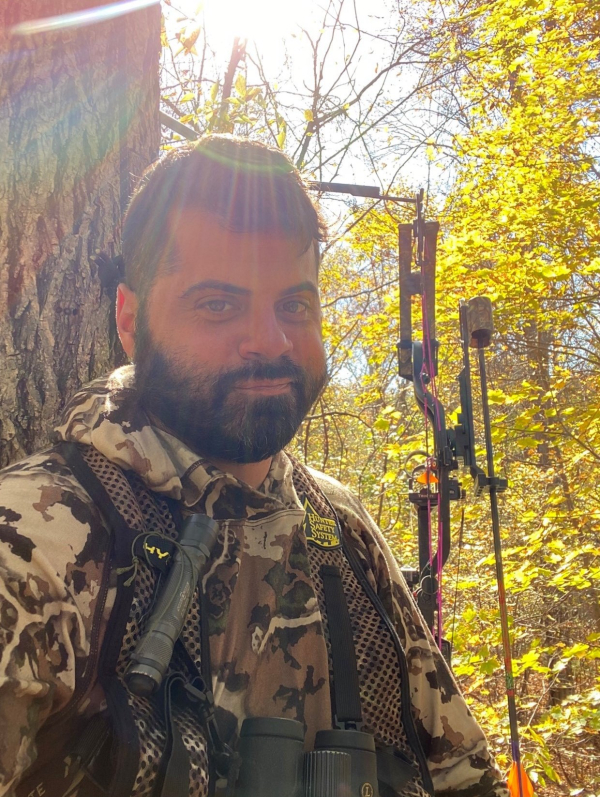 In his late twenties, he became a member of the International Bowhunters Organization (IBO) and started to compete in the lower amateur level classes of IBO Worlds and Northeast IBO State Tournaments. His passion for archery continued into another challenge when he became a brand-new dad. Instead of a consuming tournament regimen, Vincent made his family the top priority, but he still wanted to be involved in archery, so he decided to go into business for himself and formed Dawn Thru Dusk Bow Addiction LLC. With the guidance and encouragement from two very important mentors in the archery industry, Wes Vanhorn, and Steve Vanzile, he became a certified bow technician and archery pro shop owner.
Still with a void inside and a desire to fill it, he wanted to give back more to his customers. He needed to be qualified enough for his customers to entrust more faith in him so he could help them build a strong fundamental foundation. He started researching and reaching out for information on additional archery education and happened to touch base with S3DA Northeastern National Outreach Coordinator, Bob Gattorna. Vincent stated, "I had the pleasure of meeting and working with Bob Gattorna over the years of competing. He helped organize local competitive events in our area. When I look back at his outreach now, I realize if it weren't for him, many of these platforms we had dreams to build would have never stood. He was the reason that I discovered S3DA. He sparked my newest interest of promoting an outstanding organization that promotes both my passions (3D and bowhunting) to our youth!"
Vincent plans to attend as many Sportsmen's Club meetings as possible to start planting seeds to get S3DA Teams formed for the 2023 competition season. He plans to attend local 3D archery shoots to educate and spread the word of the S3DA program and encourage youth archers to join. With the guidance of Mark Myers and Frank McDonough, Vincent recently became a USA Archery Level II Instructor and S3DA Advanced Archery Instructor. With his certification, he plans to host classes and get as many individuals trained as possible to be S3DA Basic Coaches so they can start their own S3DA teams.