On a cold and sunny morning, South Carolina S3DA youth archers Emma Hernandez, Lucas Alcalde, Maddie Tadlock and Lawson Qualls along with South Carolina State Coordinator, Sheila Tadlock and South Carolina Conservation Coordinator, Patty Reel joined Captain Sarah Bryson from Salty Hooker Fishing Charter for a fishing expedition in Murrells Inlet, South Carolina. Everyone loaded the boat all bundled up and they headed offshore about 3 miles. The youth started trolling so they would have the opportunity to reel in some Spanish Mackerel. After catching some, they proceeded to go out about 8 more miles and bottom fish. They learned how to tell when their sinkers were on the bottom of the ocean floor because as soon as it was on the bottom the fish would hit.
The youth learned how to define what was fish and vegetation on the sonar graph. The adults taught the youth about the different structures that the South Carolina Department of Natural Resources sink in the water to form artificial reefs such as sunken ships, huge concrete balls, and different types of iron structures to provide a habitat for different species of fish and other living creatures in the ocean. The crew took several passes over the structures so that everyone had the opportunity to see them on the sonar.
Captain Sarah Bryson provided the tackle, bait, and fishing license, and all fish that were caught were cleaned and bagged free of charge. She told the kids that they would hear a sound of "diga diga diga diga" and that was the sound the rod would make when a fish was on the line. No one was able to catch a shark because the water is still too cold for them to be so close to shore. However, the kids did get the chance to see two dolphins swimming about 30 yards from the boat and they caught Atlantic Ringtail perch, Atlantic bluefish, and Atlantic Croaker. The fish were brought back and cleaned and filleted and separated so the kids could take them home and cook them.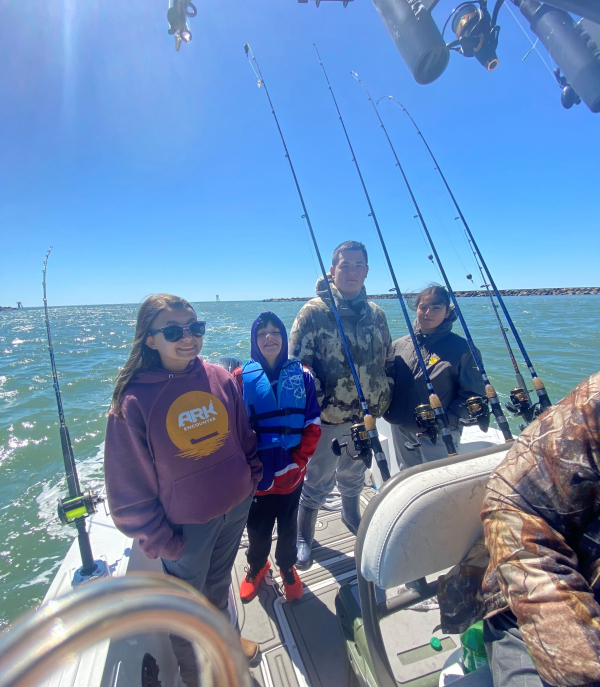 The Salty Hooker Fishing Charter was a fun-filled day on the water full of excitement! Everyone got to experience a true fishing adventure! South Carolina Coordinators plan to make this an annual trip every year. South Carolina State Conservation Coordinator, Patty Reel said, "I am hoping to get more kids on the fishing trip for next year. If they have never fished offshore, it's an adrenaline filled trip and totally different from freshwater fishing. The best part is teaching the kids and letting them learn about what is done to help the natural resources in our oceans."
South Carolina S3DA is planning to set-up a hunting trip in the Midlands and Upstate of South Carolina later this year. There are some amazing people that have stepped up to get the youth involved in the outdoors and are helping anyway that they can.
For more information on South Carolina Scholastic 3-D Archery click here!