South Carolina S3DA recently hosted their 2nd regional of the 3D competition season at Sandune Archery Club (the oldest archery club within the state) in Myrtle Beach, South Carolina. Archers from nine S3DA teams across the state made their way to the facility with high hopes of a podium finish and an all-around day of family friendly competition. The Sandune Archery Club staff was extremely helpful to the archers and their families and the facility offered food and drinks. In honor of turkey season, there was a "Trick Turkey Short Shot" that participants were encouraged to participate in.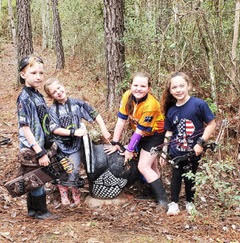 "I was very impressed with the Sandune Archery Club, as they hosted the SCAA 900 round and SC S3DA 3D Regional tournaments as two separate events, but together on the same weekend to allow archers the opportunity to compete in both events. When staff can come together and make events coincide it brings more participation and less stress on parents and families having to deal with travel arrangements and accommodations. I had the pleasure of working with Tim Smith, Level 3 NTS Coach Beth Anctil, and South Carolina ASA Coordinator, Dave Shirley over the weekend. Several of our S3DA members were able to compete in both events and our membership increased at this event by adding five new members," stated South Carolina S3DA State Coordinator Sheila Tadlock.
One of the new S3DA teams Big Knop Bowmen out of Gray Court, South Carolina participated at this regional in Myrtle Beach. The team loved the layout of the course and had a blast meeting other archers. Coaches Dusty Grant and Carrie Lennox are active ASA members competing in Semi Pro and Women's Open 45, looking to help youth find the love of archery and grow their skills behind a bow. South Carolina S3DA looks forward to the next Outdoor Target regional coming up in May.